The Wine Menu
Saturday, July 1, 2023 at 18 h
Cooking class in German
The Wine Menu
Weintasting und passendes, selbstgekochtes Menü
with Petra Rimkus & Diego Marchi
Schon mal ein tolles Essen im Kopf gehabt und dann verzweifelt vor den großen Weinregal gestanden? Oder die Souveränität herbeigefleht, dem arroganten Kellner die richtige Weinbestellung zu entgegnen? Wie war das nochmal mit Aperitif und Dessertwein? Welcher Wein zu welchem Essen? Petra & Sascha wollen auf diese grundlegende Frage Antworten geben. Natürlich entscheidet immer der eigene Geschmack, es gibt aber viele Hilfestellungen, die beachtet werden können. Immer Weißwein zu Fisch und am liebsten Rotwein zu Käse? Auf keinen Fall sagen die Zwei und zeigen was alles möglich ist.
Menu:
Kurz gebratene Saiblingsfilets auf Berglinsen.
Rosa gegarter Lammrücken, Portweinjus, Kartoffelgratin, karamellisierten Tomaten
Tarte au Chocolat mit salzigem Karamell
dazu Weine aus Deutschland, Frankreich, Italien und Österreich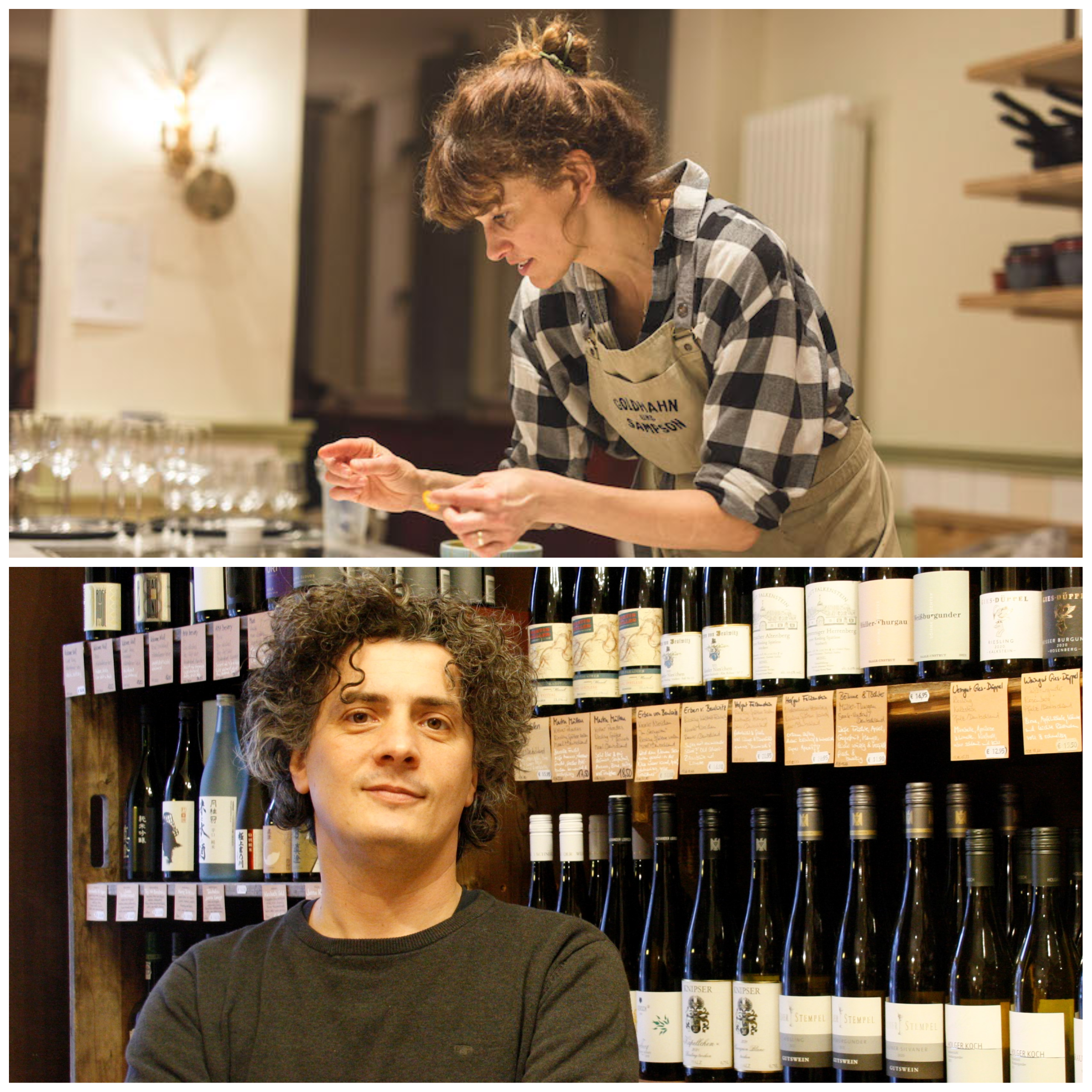 Petra Rimkus & Diego Marchi
Petra Rimkus, Jahrgang 75, wurde in der Lüneburger Heide geboren und klaute schon als Kind ihrer Oma die Töpfe und Löffel aus der Küche, um im Garten zu kochen. Damit war ihr Schicksal besiegelt und ihr beruflicher Werdegang vorgezeichnet. Seit 2002 tobt sich Petra in Berlins Küchen aus und hat 2012 ihren eigenen Cateringservice deli.cat gegründet. Seit 2020 betreibt sie zudem das EVE coffee & kitchen und verwöhnt die Gäste mit ihren Leckereien.
In der Toskana geboren, einem Land künstlerischer und gastronomischer Exzellenz, absolviert Diego sein Studium als Kunsthistoriker in Pisa. Nach Berlin umgezogen verbindet er Arbeit in der Kunstszene mit Erfahrung in der Gastronomie. Die Leidenschaft für Essen und Wein führt dazu, dass er seinen Job als Kurator endgültig aufgibt, um Sommelier zu werden. Nach einem Jahrzehnt Erfahrung in der Berliner Gastronomie, auch in Sternerestaurants, beginnt Diego bei Goldhahn und Sampson zu arbeiten, um seine Leidenschaft für die Reben und all ihre Facetten durch Kurse und Beratung zu teilen.
Photo: Shay Dashevsky & Diego Marchi
Class type:
Cooking in groups — In this class you will form small groups and each group will be cooking some of the dishes listed in the menu. The other dishes will be cooked by your fellow cooking class participants. However, important steps and basic techniques will be demonstrated in front of the entire class and/or practiced together. Of course you will also see and hear what is going on around you and you are very welcome to ask the teacher questions. The class is designed for you to experience diverse dishes and menu components.
Location: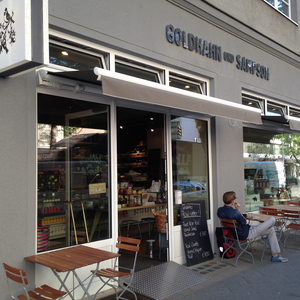 G und S Charlottenburg
Wilmersdorfer Str. 102/103
10629 Berlin
Date:
Saturday 01 July, 2023 at 18:00 h
Duration:
Generally 3.5 to 4 hours (no guarantee).
Participants:
max. 16 persons
Menu:
Kurz gebratene Saiblingsfilets auf Berglinsen.
Rosa gegarter Lammrücken, Portweinjus, Kartoffelgratin, karamellisierten Tomaten
Tarte au Chocolat mit salzigem Karamell
dazu Weine aus Deutschland, Frankreich, Italien und Österreich