Superbowl
Sunday, February 27, 2022 at 12 h
Cooking class in German
Superbowl
lecker und gesund
with Petra Rimkus
Wir starten geschmackvoll ins neue Jahr! Petra zeigt euch im Kurs, wie ihr im Handumdrehen leckere und gesunde Bowls kreiert - ganz individuell und nach Geschmack.
Dabei kommt vor allem Saisonales zum Einsatz. Der Fantasie sind keine Grenzen gesetzt. Besondere Toppings mit Frische und Biss sorgen für den richtigen Crunch.
Important rules due to Corona
Our courses are exclusively for recovered and vaccinated people who can prove this with a digital certificate (QR code). Without a valid certificate, you cannot attend the course and your ticket will be forfeited without refund. Please be sure to have your certificate and a document of identification ready for verification at the entrance, otherwise we will not be able to grant you admission. Thank you.
We adhere to the daily guidelines of the Berlin Senate for all courses in our culinary school, so changes at short notice are always possible as well as an additional negative test from the same day or a cancellation of the course, if required by the pandemic situation.
Menu:
Alles für eine perfekte Bowl
von saisonalem Gemüse über Pesto und bunte Dressings bis zu einer Vielzahl an kreativen Toppings
kombinieren nach Herzenslust
Petra Rimkus
Petra Rimkus, Jahrgang 75, wurde in der Lüneburger Heide geboren und klaute schon als Kind ihrer Oma die Töpfe und Löffel aus der Küche, um im Garten zu kochen. Damit war ihr Schicksal besiegelt und ihr beruflicher Werdegang vorgezeichnet. Seit 2002 tobt sich Petra in Berlins Küchen aus und hat 2012 ihren eigenen Cateringservice deli.cat gegründet. Seit 2020 betreibt sie zudem das EVE coffee & kitchen und verwöhnt die Gäste mit ihren Leckereien.
Photo: Shay Dashevsky
Class type:
Cooking in groups — In this class you will form small groups and each group will be cooking some of the dishes listed in the menu. The other dishes will be cooked by your fellow cooking class participants. However, important steps and basic techniques will be demonstrated in front of the entire class and/or practiced together. Of course you will also see and hear what is going on around you and you are very welcome to ask the teacher questions. The class is designed for you to experience diverse dishes and menu components.
Location: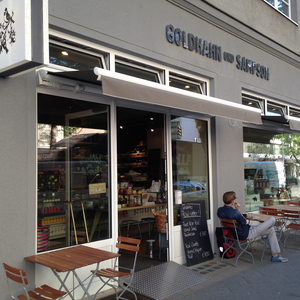 G und S Charlottenburg
Wilmersdorfer Str. 102/103
10629 Berlin
Date:
Sunday 27 February, 2022 at 12:00 h
Duration:
Generally 3.5 to 4 hours (no guarantee).
Participants:
max. 16 persons
Menu:
Alles für eine perfekte Bowl
von saisonalem Gemüse über Pesto und bunte Dressings bis zu einer Vielzahl an kreativen Toppings
kombinieren nach Herzenslust