Tapas del Mar
Cooking class in German
Tapas del Mar
Fisch und Meeresfrüchte
with Federico Carrasco
Dieser Kurs führt uns entlang der spanischen Küsten, sowohl am Atlantik als auch am Mittelmeer, wir kochen Gerichte aus dem Norden wie Kabeljau Pil Pil, und beschäftigen uns auch mit den mediterranen Aromen, z.B. in dem Gericht Arroz Caldoso. Wer Tintenfisch, Garnelen und Fisch liebt, aber noch einige neue Zubereitungsarten kennen lernen möchte, der ist in diesem Kurs richtig. Der Kurs ist nicht für Vegetarier geeignet.
In Zeiten von Corona: Wichtige Hinweise
Wir halten uns bei allen Kursen in unserer Kochschule an die tagesaktuellen Vorgaben des Berliner Senats, daher sind kurzfristige Änderungen jederzeit möglich.
Zusätzlich haben wir ein ausführliches Schutz- und Hygienekonzept für die Kochschule erstellt, und vor dem Kurs wirst du von unseren Kochkursassistent*innen ausführlich über die Regeln informiert. Konkret mussten wir ein paar Änderungen im Ablauf und der Struktur vornehmen, hier die wichtigsten Punkte:
Es müssen mindestens 2 Plätze gebucht werden, d.h. 2 Tickets gekauft werden. Momentan bieten wir ausschließlich die Buchung einer Kochstation für bis zu 2 Personen an. Einzeltickets können vorläufig nicht erworben werden, da die Teilnehmenden Personen des gleichen Haushalts, bzw. Personen aus einem bekannten Haushalts sein müssen. Wer alleine am Kurs teilnehmen möchte, müsste also zwei Tickets kaufen oder eine zweite Person finden.
Maskenpflicht ist kein Witz: Beim Betreten des Ladens und auch beim Kochen, sowie beim beim Gang auf die Toilette müssen alle Kochkursteilnehmer*innen sowie Kochkurslehrer*in und Assistent*innen einen Mund-Nasen-Schutz tragen. Beim Essen am Tisch muss keine Maske getragen werden.
Alkoholausschank findet erst zum Essen am Tisch statt.
Beim Kochen kann man nicht in der Küche herumlaufen und die anderen Stationen 'besuchen'. Aus Sicherheitsgründen bleiben alle an ihren Stationen.
Wir müssen auf der Einhaltung des Hygienekonzepts bestehen. Unsere Kochkursassistent*innen helfen natürlich dabei, dass alles entspannt abläuft.
Menu (example):
Arroz caldoso de calamares - Bomba Reis in Fischfond gegart, mit Tintenfisch, als Suppe serviert
Tortilla de espárragos y gambas - Spargel und Garnelen Tortilla
Bacalao Pil Pil - Kabeljau in einer Emulsion aus Olivenöl und seinem Bratjus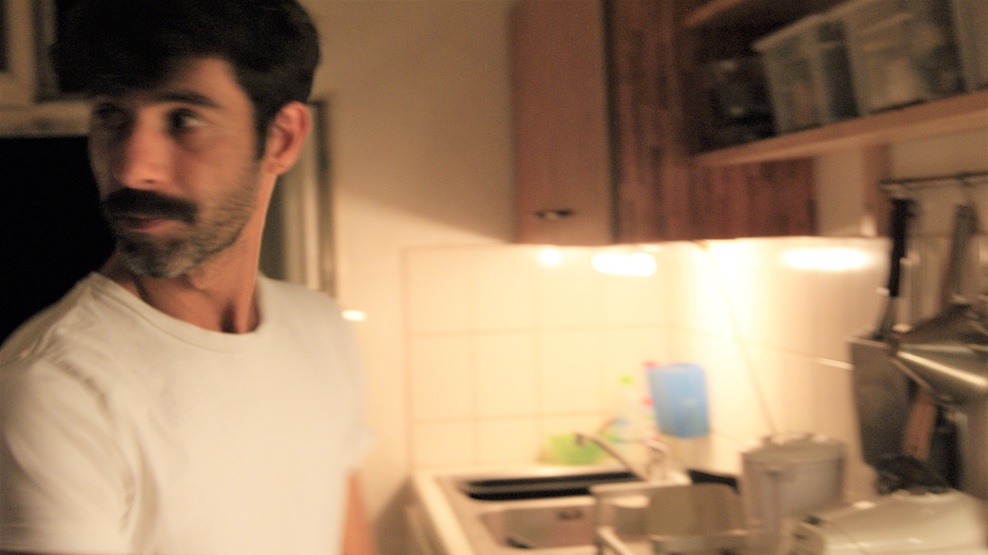 Federico Carrasco
Federico kommt aus Buenos Aires, Argentinien, wo er seine ersten Erfahrungen in der professionellen Gastronomie sammelte. Zusammen mit vier Freunden veranstaltete er kulinarische Themenabende und Caterings. Hinzu kam die Beratung von gastronomischen Betrieben. Sein Ziel war dabei immer so viel wie möglich zu kochen, reisen, lernen und Neues kennenzulernen. Vor fast 10 Jahren kam er nach Berlin, davor hat er in vielen Ländern gelebt, viele Sprachen und Küchen erlernt. Er kennt sich aus mit modernen Kochtechniken und der molekularen Küche und liebt es, reisend und kulinarisch die Kontinente zu erkunden: Amerika, Europa, und Asien (insbesondere Korea). Unterschiedliche Länderküchen zu verbinden macht ihm Spaß und lässt ihn immer wieder Neues entdecken. Federico ist als Gastronomieberater tätig und arbeitet als Patissier in seinem eigenen, frisch gegründeten, Cateringunternehmen, das sich auf Desserts im Glas spezialisiert hat.
Class type:
Cooking in teams of two — In this class you will cook together with a partner (or sometimes 2 partners) at one station. You will be preparing every dish of the menu yourself. Most of the ingredients, already correctly measured, will be waiting for you at your station, so you can start cooking more quickly. Crucial techniques and/or the use of special equipment will be demonstrated by the teacher before you'll have a go yourself. This class is perfect for everyone who likes to have a real hands-on experience.
Duration:
Generally 3.5 to 4 hours (no guarantee).
Menu (example):
Arroz caldoso de calamares - Bomba Reis in Fischfond gegart, mit Tintenfisch, als Suppe serviert
Tortilla de espárragos y gambas - Spargel und Garnelen Tortilla
Bacalao Pil Pil - Kabeljau in einer Emulsion aus Olivenöl und seinem Bratjus