Reise nach Tel Aviv
Wednesday, June 14, 2023 at 19 h
Cooking class in German
Reise nach Tel Aviv
with Gal Gaon
Inspiriert von lokalen Gerichten aus dem Nahen Osten und solchen Gerichten, die von den Juden aus aller Welt mitgebracht wurden, ist die israelische Küche - auch jüdische Fusionsküche genannt - eine wilde Mischung vieler Kulturen, Geschmäcker, Farben & ein bisschen Chuzpe.. genau wie das israelische Volk. Wir lieben es, Essen zu teilen! Das Zusammenkommen und die Interaktion mit geliebten Menschen am Esstisch voll mit köstlichem Essen ist eine Institution in Israel. In Kombination mit der spanischen Art Tapas zu teilen, wird daraus ein großartiges und vielfältiges kulinarisches Erlebnis.
Menu:
Geröstete Aubergine mit Sesampaste, Pinienkernen und Granatapfel
Challa Brot - Hefeteig gefüllt mit Lauch und Pecorino
Rucola Salat mit gerösteten Karotten, Pistazien, eingelegten Zitronennpesto und eingelegter Zwiebel
Kibbeh- Grießtaschen gefüllt mit Hackfleisch auf Labaneh und frischer Zucchini
Shawarma- Streifen aus gebratenem Lendenstück mit Pilzen und Zwiebeln auf Hummus
Knafeh - Kadaif Nudeln mit Käsefüllung und Rosenwassersirup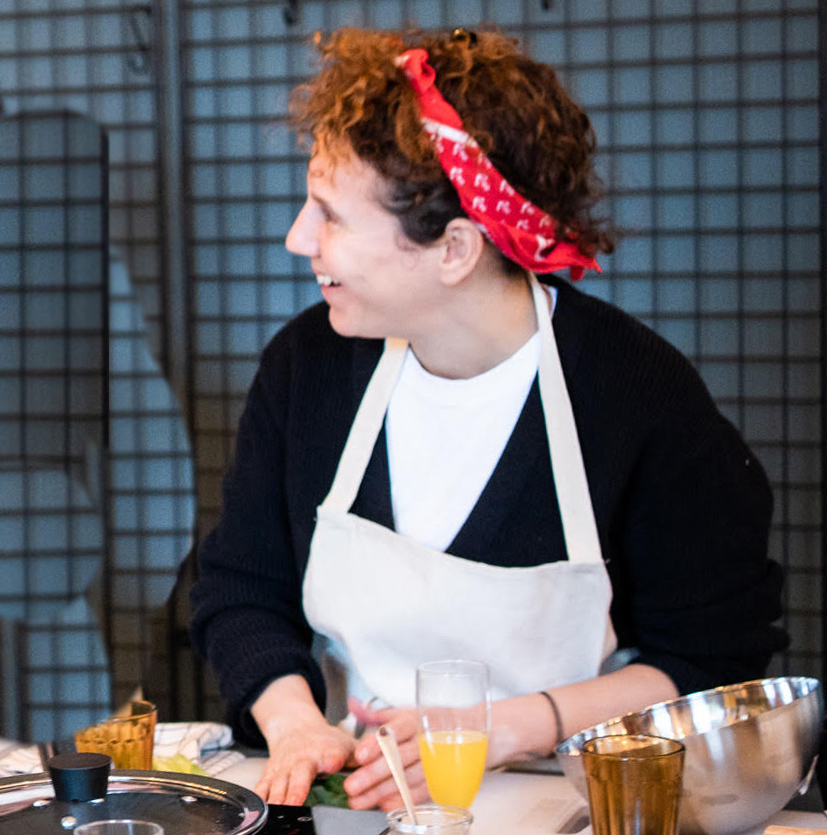 Gal Gaon
Gal Gaon, ist in Israel geboren und aufgewachsen. Sie ist Tochter einer polnischen Mutter und eines ägyptischen Vaters. Ihre kulinarischen Wurzeln kommen aus Osteuropa und der arabischen Welt. Mit jeder Menge israelischen Temperament war Essen zu Hause immer ein großes Thema. Jeden Freitagabend kam die ganze Familie zusammen, um eine vollen Tisch leckerer Gerichte zusammen zu genießen. Schon als kleines Mädchen hat sie ihre Eltern in der Küche unterstützt und ihre ersten Schritte als Köchin gemacht.
Mit ihrer in Israel absolvierten Ausbildung zur Architektin kam sie vor gut zehn Jahren nach Berlin und arbeitete zuerst als Angestellte und dann als selbstständige Architektin. In Ihrer Freizeit kochte sie dennoch kochte sie immer mit Leidenschaft und sie verließ letztendlich ihren Architektur Beruf, um sich mit einem Cateringunternehmen selbstständig zu machen. Heute leitet Gal eine Catering- und Eventfirma in Berlin mit dem Namen Á la Shuk (*shuk =markt auf Hebräisch) www.a-la-shuk.com
Class type:
Cooking in groups — In this class you will form small groups and each group will be cooking some of the dishes listed in the menu. The other dishes will be cooked by your fellow cooking class participants. However, important steps and basic techniques will be demonstrated in front of the entire class and/or practiced together. Of course you will also see and hear what is going on around you and you are very welcome to ask the teacher questions. The class is designed for you to experience diverse dishes and menu components.
Location: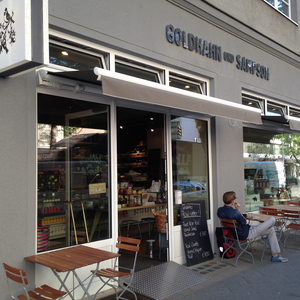 G und S Charlottenburg
Wilmersdorfer Str. 102/103
10629 Berlin
Date:
Wednesday 14 June, 2023 at 19:00 h
Duration:
Generally 3.5 to 4 hours (no guarantee).
Participants:
max. 16 persons
Menu:
Geröstete Aubergine mit Sesampaste, Pinienkernen und Granatapfel
Challa Brot - Hefeteig gefüllt mit Lauch und Pecorino
Rucola Salat mit gerösteten Karotten, Pistazien, eingelegten Zitronennpesto und eingelegter Zwiebel
Kibbeh- Grießtaschen gefüllt mit Hackfleisch auf Labaneh und frischer Zucchini
Shawarma- Streifen aus gebratenem Lendenstück mit Pilzen und Zwiebeln auf Hummus
Knafeh - Kadaif Nudeln mit Käsefüllung und Rosenwassersirup
Customers who bought this product also couldn't resist the following: