Pimp your vegetables - summer edition
Saturday, July 16, 2022 at 18 h
Cooking class in German
Pimp your vegetables - summer edition
with Lisa Shoemaker
Es geht um Sommergerichte, die man meist auch kalt genießen kann und die den Grillabend oder das Picknick bereichern. Aber natürlich auch auf dem Balkon schmecken. Leider können wir in der Küche keinen Holzkohlengrill aufbauen, aber ich verrate euch, wie ihr Gemüse vorbereiten könnt, damit es sich auf dem Grill voll entfalten kann und ein wenig Abwechslung in das vegetarische Einerlei von Tofuwürsten In der Regel sind die Gemüse aus biologischem Anbau, ihr bekommt Tipps, wie ihr eventuell anfallende Reste verwerten könnt oder wie ihr die Rezepte unkompliziert in eine Pastasauce, Suppe oder Salat verwandelt. Die Rezepte sind vegetarisch oder vegan, aber hier und da könnte man Sardellen einsetzen.
In Zeiten von Corona: Wichtige Hinweise
Wir bitten um Verständnis, dass wir unser Schutz- und Hygienekonzept der jeweils aktuellen Situation anpassen müssen. Bitte informiere dich kurz vor deinem Besuch über die dann aktuellen Bestimmungen unter folgendem Link:
https://docs.google.com/document/d/1N9NuWXmdQa19LCNbbz5qdep-qmvhG63wLo45NlL1jG4/edit?usp=sharing
Menu:
Je nach Marktlage machen wir:
3x Aubergine als Dipp: Baba Ganoush oder Moutabal? Und griechisch.
Breite Bohnen geschmort: warm, lauwarm oder kalt
Chinakohl als Fake Kimchi mit doppelt gefrorenem Tofu
Fenchel als Antipasto
Mangold in der Tarte
Radicchio gegrillt, mit einem Balsam-Dressing
Radieschen machen eine Weltreise
Rote Bete: Salat, Carpaccio, Dipp?
Wassermelonen können mehr als Salat in einer asiatisch angehauchten Gazpacho – oder gegrillt
Zucchini als Sandwich
Zwiebeln in mehreren Inkarnationen als Topping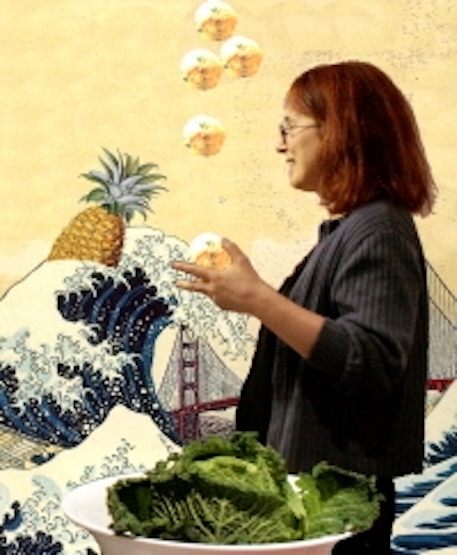 Lisa Shoemaker
Lisa Shoemaker cooks and bakes with children, young people and grown-ups. She also writes and translates cook books. Works: Let's Cook (for young people) and Englisch kochen, as Amerikanisch Kochen from the series Gerichte und ihre Geschichte. She translated among others Cynthia Barcomi's baking books.
Class type:
Cooking in groups — In this class you will form small groups and each group will be cooking some of the dishes listed in the menu. The other dishes will be cooked by your fellow cooking class participants. However, important steps and basic techniques will be demonstrated in front of the entire class and/or practiced together. Of course you will also see and hear what is going on around you and you are very welcome to ask the teacher questions. The class is designed for you to experience diverse dishes and menu components.
Location: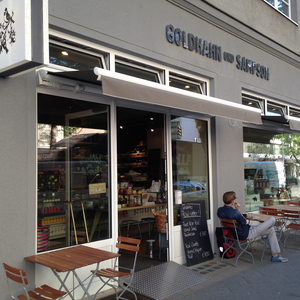 G und S Charlottenburg
Wilmersdorfer Str. 102/103
10629 Berlin
Date:
Saturday 16 July, 2022 at 18:00 h
Duration:
Generally 3.5 to 4 hours (no guarantee).
Based on our experiences, the average value for this course is 4 hours.
Participants:
max. 16 persons
Menu:
Je nach Marktlage machen wir:
3x Aubergine als Dipp: Baba Ganoush oder Moutabal? Und griechisch.
Breite Bohnen geschmort: warm, lauwarm oder kalt
Chinakohl als Fake Kimchi mit doppelt gefrorenem Tofu
Fenchel als Antipasto
Mangold in der Tarte
Radicchio gegrillt, mit einem Balsam-Dressing
Radieschen machen eine Weltreise
Rote Bete: Salat, Carpaccio, Dipp?
Wassermelonen können mehr als Salat in einer asiatisch angehauchten Gazpacho – oder gegrillt
Zucchini als Sandwich
Zwiebeln in mehreren Inkarnationen als Topping