Pimp your vegetables - autumm edition
Saturday, November 5, 2022 at 18 h
Cooking class in German
Pimp your vegetables - autumm edition
New and creative recipes for vegetable lovers
with Lisa Shoemaker
Sempre la stessa minestra? Immer wieder das gleiche?
Überbackene Broccoli, Bohnen mit Speck, Karotten mit Petersilie, Spargel mit Hollandaise, Spinat mit Blubb.?
Es geht auch anders: Jahrelang habe ich Woche für Woche Rezepte für eine Öko-Gemüsekiste geschrieben und ständig neue Gemüsekombinationen ausprobiert. Versuchskaninchen war meine gelegentlich leicht genervte Familie.
Im Herbst kochen wir u.a. mit folgenden Gemüsen: Pilze, Kürbis, grüne Bohnen, Fenchel, rote Bete, Lauch, Paprika, Broccoli und werden sie zu Antipasti, Suppen, Salaten, Bratlingen, Tartes, Gnocchi usw. verarbeiten und ich werde Euch dazu passende Zubereitungsarten wie blanchieren, dämpfen, dünsten, frittieren, schmoren, rösten usw. vorstellen.
Würzen werden wir z.B. mit Piment, Koriander, Muskat, Zimt und Kreuzkümmel, Früchten wie Orangen, Zitronen und Kokos, zum Einsatz kommen auch verschiedene Essige und Öle, Anchovis, diverse Kräuter, auch Kapern und Oliven, Sesam und Erdnüsse, oder Ingwer und Zitronengras eignen sich hervorragend zum Pimpen.
In Zeiten von Corona: Wichtige Hinweise
Wir bitten um Verständnis, dass wir unser Schutz- und Hygienekonzept der jeweils aktuellen Situation anpassen müssen. Bitte informiere dich kurz vor deinem Besuch über die dann aktuellen Bestimmungen unter folgendem Link:
https://docs.google.com/document/d/1N9NuWXmdQa19LCNbbz5qdep-qmvhG63wLo45NlL1jG4/edit?usp=sharing
Menu:
Mögliches Menü (immer abhängig vom frischen Angebot)
Gemüse-Antipasti und Gemüsepasten
Gemüsefond als Grundlage für eine Soupe au Pistou
Kürbisgnocchi auf Gemüseragout
geschmorte Stangenbohnen
Fenchel Variationen - mit Salzzitronen, mit Kardamom...
Karottenköfte und Zucchiniburger
Pumpkin Cheese Cake
und und und...
je nach Zeit und Interesse andere Gerichte mit marktfrischem Gemüse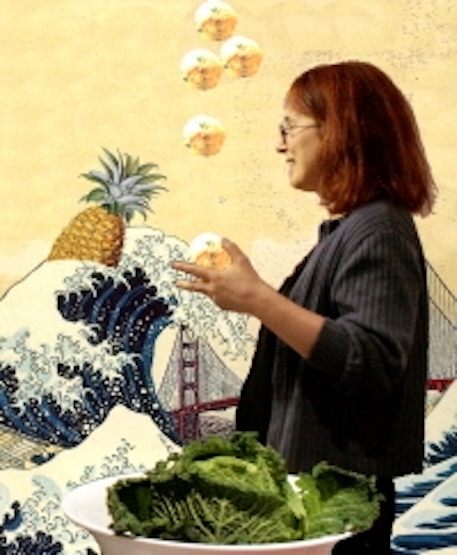 Lisa Shoemaker
Lisa Shoemaker cooks and bakes with children, young people and grown-ups. She also writes and translates cook books. Works: Let's Cook (for young people) and Englisch kochen, as Amerikanisch Kochen from the series Gerichte und ihre Geschichte. She translated among others Cynthia Barcomi's baking books.
Class type:
Cooking in groups — In this class you will form small groups and each group will be cooking some of the dishes listed in the menu. The other dishes will be cooked by your fellow cooking class participants. However, important steps and basic techniques will be demonstrated in front of the entire class and/or practiced together. Of course you will also see and hear what is going on around you and you are very welcome to ask the teacher questions. The class is designed for you to experience diverse dishes and menu components.
Location: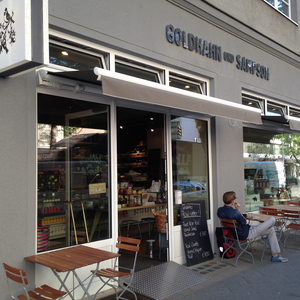 G und S Charlottenburg
Wilmersdorfer Str. 102/103
10629 Berlin
Date:
Saturday 05 November, 2022 at 18:00 h
Duration:
Generally 3.5 to 4 hours (no guarantee).
Based on our experiences, the average value for this course is 4 hours.
Participants:
max. 16 persons
Menu:
Mögliches Menü (immer abhängig vom frischen Angebot)
Gemüse-Antipasti und Gemüsepasten
Gemüsefond als Grundlage für eine Soupe au Pistou
Kürbisgnocchi auf Gemüseragout
geschmorte Stangenbohnen
Fenchel Variationen - mit Salzzitronen, mit Kardamom...
Karottenköfte und Zucchiniburger
Pumpkin Cheese Cake
und und und...
je nach Zeit und Interesse andere Gerichte mit marktfrischem Gemüse
Customers who bought this product also couldn't resist the following: