Pimp your leftovers: Gemüse Reste Edition
Thursday, February 2, 2023 at 19 h
Cooking class in German
Pimp your leftovers: Gemüse Reste Edition
Pimp your Leftovers: ein Ausflug in die vegetarische Resteküche
with Lisa Shoemaker
Es geht um Gemüse und keine Sorge, es gibt nicht nur Schalen und Stängel, denn wenn wir Reste wollen, müssen wir erst einmal etwas "Richtiges" kochen: Eine wunderbare Mangoldtarte – daneben ein Haufen Stängel. Müll?! Keineswegs. In Frankreich habe ich einmal ein Gratin aus Mangoldstielen als Beilage bekommen, nicht das aufregendste Gericht der Welt, aber es schmeckte überraschend gut. Und ein altes venezianisch-jüdisches Rezept schmort die Stiele süß-sauer. Zitronen-Orangen-Kuchen gebacken. Die ausgepressten Schalen türmen sich. Müll? Oder Salzzitronen, Zitronensalz, kandiert oder Orangenzucker? Im folgenden Menübeispiel verfahren wir mit den dort aufgeführten Gemüsesorten ähnlich. Dieser Kurs ist überwiegend vegetarisch mit veganer Option, es könnte aber auch mal eine Sardelle oder Speckschwarte erwähnt werden.
In Zeiten von Corona: Wichtige Hinweise
Wir bitten um Verständnis, dass wir unser Schutz- und Hygienekonzept der jeweils aktuellen Situation anpassen müssen. Bitte informiere dich kurz vor deinem Besuch über die dann aktuellen Bestimmungen unter folgendem Link:
https://docs.google.com/document/d/1N9NuWXmdQa19LCNbbz5qdep-qmvhG63wLo45NlL1jG4/edit?usp=sharing
Menu:
Blumenkohl und Broccoli, italienisch und ostmediterran
Schwarz- und Grünkohl, roh oder als unglaublich grüne Pastasauce
rote Bete mit Orange als Kuchen
Fenchel geschmort mit Kardamom oder roh mit Salzzitronen
Frühlingszwiebeln und Lauch als Suppe
Kräuter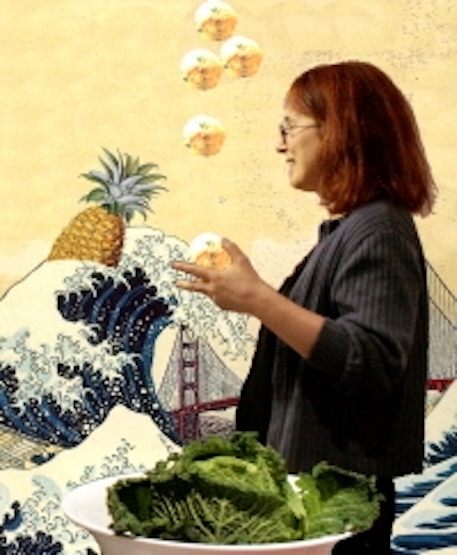 Lisa Shoemaker
Lisa Shoemaker cooks and bakes with children, young people and grown-ups. She also writes and translates cook books. Works: Let's Cook (for young people) and Englisch kochen, as Amerikanisch Kochen from the series Gerichte und ihre Geschichte. She translated among others Cynthia Barcomi's baking books.
Class type:
Cooking in groups — In this class you will form small groups and each group will be cooking some of the dishes listed in the menu. The other dishes will be cooked by your fellow cooking class participants. However, important steps and basic techniques will be demonstrated in front of the entire class and/or practiced together. Of course you will also see and hear what is going on around you and you are very welcome to ask the teacher questions. The class is designed for you to experience diverse dishes and menu components.
Location: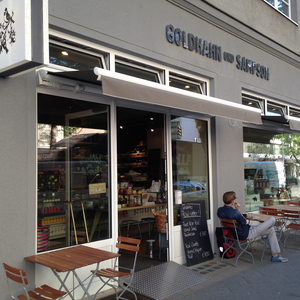 G und S Charlottenburg
Wilmersdorfer Str. 102/103
10629 Berlin
Date:
Thursday 02 February, 2023 at 19:00 h
Duration:
Generally 3.5 to 4 hours (no guarantee).
Participants:
max. 16 persons
Menu:
Blumenkohl und Broccoli, italienisch und ostmediterran
Schwarz- und Grünkohl, roh oder als unglaublich grüne Pastasauce
rote Bete mit Orange als Kuchen
Fenchel geschmort mit Kardamom oder roh mit Salzzitronen
Frühlingszwiebeln und Lauch als Suppe
Kräuter