Philippine Cuisine in English
Saturday, March 19, 2022 at 18 h
Cooking class in English
Philippine Cuisine in English
Mediterranean Flair in Asia
with Kay Alave
When we hear fusion cuisine, we think of a special type of restaurant, but actually nothing describes the Philippine cuisine better than the term 'fusion'. The archipel with 7.100 islands was the used a trading post by Malaysian, Arabic and Chinese traders befor the Europeans arrived in the 16th century. First the Spanish came and stayed for over 400 years. The Americans were next and therefore the colonial influences and the influences of the neighbouring countries is very strong, even today. You'll find Spanish ingredients, which are prepared with European or Mexican techniques. Often mixed with Asian ingredients like coconut milk, ginger or noodles. This unique combination makes the Philippine cuisine special amongst it's Southasian neighbours: it's unconventional, bold and exciting! This class is an introduction to the basic flavours, ingredients and techniques used in the Philippine cuisine.
Important rules due to Corona
Our courses are exclusively for recovered and vaccinated people who can prove this with a digital certificate (QR code). Without a valid certificate, you cannot attend the course and your ticket will be forfeited without refund. Please be sure to have your certificate and a document of identification ready for verification at the entrance, otherwise we will not be able to grant you admission. Thank you.
We adhere to the daily guidelines of the Berlin Senate for all courses in our culinary school, so changes at short notice are always possible as well as an additional negative test from the same day or a cancellation of the course, if required by the pandemic situation.
Menu:
Mussels in chorizo broth
Steamed pork dumplings with dipping sauces
Chicken Adobo
Sauteed green beans
Banana spring rolls with coconut caramel sauce
Kay Alave
Kay fing bereits mit sechs Jahren mit dem Kochen an als ihre Mutter ihr erklärte, wie man Fisch säubert und ausnimmt. Das war für ihre Mutter eine wichtige Lebenskompetenz, wichtiger als Fahrradfahren, dass Kay bis heute noch nicht erlernt hat. Sie wuchs in Manila auf und arbeitete zehn Jahre als Journalistin. 2012 zog sie nach Berlin um an der Hochschule für nachhaltige Entwicklung in Eberswalde ihren Master zu machen.
Wenn sie nicht in der Küche steht findet man Kay meist in der Bibliothek, wo sie an ihrer lange herausgeschobenen Masterarbeit schreibt. Diese dreht sich natürlich ums Essen, genauer gesagt um die politische Ökologie von Nahrungsmitteln.
Class type:
Cooking in groups — In this class you will form small groups and each group will be cooking some of the dishes listed in the menu. The other dishes will be cooked by your fellow cooking class participants. However, important steps and basic techniques will be demonstrated in front of the entire class and/or practiced together. Of course you will also see and hear what is going on around you and you are very welcome to ask the teacher questions. The class is designed for you to experience diverse dishes and menu components.
Location: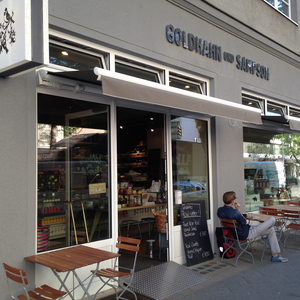 G und S Charlottenburg
Wilmersdorfer Str. 102/103
10629 Berlin
Date:
Saturday 19 March, 2022 at 18:00 h
Duration:
Generally 3.5 to 4 hours (no guarantee).
Participants:
max. 16 persons
Menu:
Mussels in chorizo broth
Steamed pork dumplings with dipping sauces
Chicken Adobo
Sauteed green beans
Banana spring rolls with coconut caramel sauce