Mindful Eating
Wednesday, January 26, 2022 at 19 h
Cooking class in German
Mindful Eating
Essen für Herz und Seele
with Romy Eichler
Trubel im Alltag? Abschalten beim Kochen! Ganz nach dem Grundsatz neue Normalität auch in der Küche, nehmen wir uns einen Moment für uns und werfen einen genaueren Blick auf unsere Lebensmittel. Dabei entdecken wir, wie unterschiedlich man ein- und dieselbe Zutat verwendet werden kann und was sich so alles mit Resten anstellen lässt. Mit dabei: Wärmendes für die Seele, Ideen zum haltbar machen und Superfoods der heimischen Küche - vielfältig, saisonal und beglückend.
Important rules due to Corona
Our courses are exclusively for recovered and vaccinated people who can prove this with a digital certificate (QR code). Without a valid certificate, you cannot attend the course and your ticket will be forfeited without refund. Please be sure to have your certificate and a document of identification ready for verification at the entrance, otherwise we will not be able to grant you admission. Thank you.
We adhere to the daily guidelines of the Berlin Senate for all courses in our culinary school, so changes at short notice are always possible as well as an additional negative test from the same day or a cancellation of the course, if required by the pandemic situation.
Menu:
Carpaccio von bunten Beten mit gebeiztem Wels und Wildkräutern
Wirsing-Rinderröllchen mit Miso-Salzzitronenfüllung, Möhren, Selleriepüree und beste Reste Jus
Rote Creme mit gedämpften Zimt-Früchten und Pumpernickelcrunch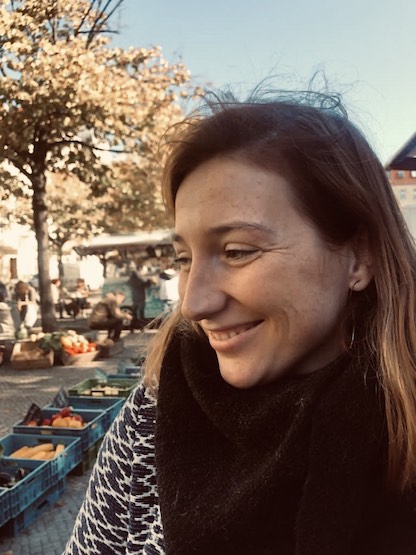 Romy Eichler
Romy ist Berlinerin, viel rumgekommen und hat währenddessen in Kochtöpfe auf der ganzen Welt geschaut. Dabei hat sie eine Inspirationsüberflutung erlebt, ist zum Gewürzfan(antiker) geworden, hat den heimischen Kräutern die Geheimnisse entlockt, in alten, richtig alten Kochbüchern gestöbert und all dies in die heimische Küche geholt. Nun ist sie fast fertige Ernährungsberaterin mit Begeisterung für Mindful Eating & Cooking und ist dabei traditionellen Rezepten neues Leben einzuhauchen, ganz unter dem Motto saisonal-regional-phänomenal.
Photo: Melanie Ganz
Class type:
Cooking in groups — In this class you will form small groups and each group will be cooking some of the dishes listed in the menu. The other dishes will be cooked by your fellow cooking class participants. However, important steps and basic techniques will be demonstrated in front of the entire class and/or practiced together. Of course you will also see and hear what is going on around you and you are very welcome to ask the teacher questions. The class is designed for you to experience diverse dishes and menu components.
Location: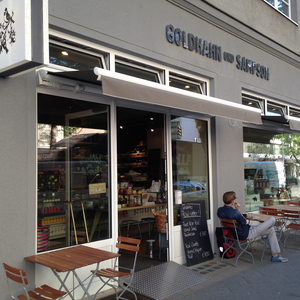 G und S Charlottenburg
Wilmersdorfer Str. 102/103
10629 Berlin
Date:
Wednesday 26 January, 2022 at 19:00 h
Duration:
Generally 3.5 to 4 hours (no guarantee).
Participants:
max. 16 persons
Menu:
Carpaccio von bunten Beten mit gebeiztem Wels und Wildkräutern
Wirsing-Rinderröllchen mit Miso-Salzzitronenfüllung, Möhren, Selleriepüree und beste Reste Jus
Rote Creme mit gedämpften Zimt-Früchten und Pumpernickelcrunch
Customers who bought this product also couldn't resist the following: