Middle East Meets Mittelmeer
Cooking class in German
Middle East Meets Mittelmeer
with Lisa Shoemaker
Ein Kochkurs für jede/n: inzwischen ist es normal, dass neben der Fleischoption auch vegane und vegetarische Alternativen gibt.
Hier drehen wir den Spieß um: Die Länder des östlichen und südlichen Mittelmeers verfügen über eine reiche Tradition an pflanzlichen Gerichten, die wir in den Mittelpunkt stellen und für solche, die nicht ganz ohne Fleisch können, gibt es Köfte, und der Zitronenjoghurtdipp, der dazu gereicht wird, passt auch gut zum Gemüse.
Die Vielfalt der Aromen aus dieser Region sorgt dafür, dass sich keine Geschmacksknospen langweilen und alle satt werden.
In Zeiten von Corona: Wichtige Hinweise
Wir bitten um Verständnis, dass wir unser Schutz- und Hygienekonzept der jeweils aktuellen Situation anpassen müssen. Bitte informiere dich kurz vor deinem Besuch über die dann aktuellen Bestimmungen unter folgendem Link:
https://docs.google.com/document/d/1N9NuWXmdQa19LCNbbz5qdep-qmvhG63wLo45NlL1jG4/edit?usp=sharing
Menu (example):
Creme aus gerösteter Paprika und Feta (vegan: Walnüsse)
Besara - Grüner Dip aus Fave Bohnen und Kräutern
Granatapfel-Walnuss Salat
Selbstgemachtes Za'atar Fladenbrot
Auberginenkuku mit Berberitzen
Artischocke und Oliven mit Salzzitronen
geschmorte breite Bohnen mit Tomaten und Knoblauch
Kartoffeln und Paprika aus dem Ofen mit Chili und Zitrone
gebackener Blumenkohl mit Harissa
Köfte mit Zitronenjoghurt
Yufka Küchlein mit cremiger Vanille-Labneh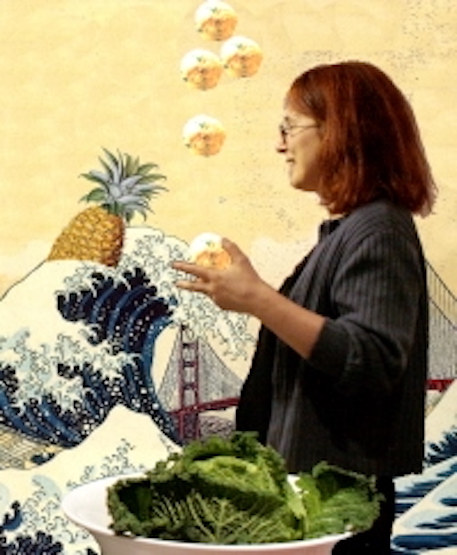 Lisa Shoemaker
Lisa Shoemaker cooks and bakes with children, young people and grown-ups. She also writes and translates cook books. Works: Let's Cook (for young people) and Englisch kochen, as Amerikanisch Kochen from the series Gerichte und ihre Geschichte. She translated among others Cynthia Barcomi's baking books.
Class type:
Cooking in groups — In this class you will form small groups and each group will be cooking some of the dishes listed in the menu. The other dishes will be cooked by your fellow cooking class participants. However, important steps and basic techniques will be demonstrated in front of the entire class and/or practiced together. Of course you will also see and hear what is going on around you and you are very welcome to ask the teacher questions. The class is designed for you to experience diverse dishes and menu components.
Duration:
Generally 3.5 to 4 hours (no guarantee).
Menu (example):
Creme aus gerösteter Paprika und Feta (vegan: Walnüsse)
Besara - Grüner Dip aus Fave Bohnen und Kräutern
Granatapfel-Walnuss Salat
Selbstgemachtes Za'atar Fladenbrot
Auberginenkuku mit Berberitzen
Artischocke und Oliven mit Salzzitronen
geschmorte breite Bohnen mit Tomaten und Knoblauch
Kartoffeln und Paprika aus dem Ofen mit Chili und Zitrone
gebackener Blumenkohl mit Harissa
Köfte mit Zitronenjoghurt
Yufka Küchlein mit cremiger Vanille-Labneh