From Tel Aviv with Love
Cooking class in German
From Tel Aviv with Love
Moderne Israeli Cuisine
with Shay Dashevsky
Today in Israel one of the hottest culinary scenes in the world and its emerging in every part of the world. creativity of modern Israeli cuisine is for long time been the new trend, but it will be nothing without the traditions and cultures that this kitchen derives from and relies on. The new Israeli kitchen is long time process of fusion 70 different ethnicities. Israeli food has a flavor profile that fits the demand for fresh, easy, colorful and nutritional food. The food from Tel Aviv became famous for all those reason. It's a never ending changing kitchen that always advance to find new scenes to excite. No wonder so many people want to travel there just to taste the food. If you have not made to Tel Aviv yet, don't worry: in this class, we'll cook beautiful dished, right from the center of Tel Aviv: tangy, lemony and exotic with colorful variations of spices.
Important rules due to Corona
We adhere to the daily guidelines of the Berlin Senate for all courses in our culinary school, so changes at short notice are always possible.
To be able to run cooking classes, we've created a protection and hygiene concept with regards to the current situation. Our cooking class assistants will explain to you the rules before the beginning of the course. These are the most important changes:
As only two people will operate a cooking station, you need to book 2 tickets. Single tickets cannot be purchased for the time being, as the participants must be people from the same household or people from an acquainted household. Of course you can join a cooking class on your own, but you would need to buy two tickets and run your own cooking station.
All cooking course participants as well as cooking course teachers and assistants must wear a mouth and nose protector when entering the store, while cooking or when going to the toilet. It is not necessary to wear a mask when eating at the table.
Alcohol is only served at the table during the meal.
While cooking you are not allowed to walk around the kitchen and 'visit' other cooking stations. Due to safety reasons everyone has to stay at their own station.
We have to insist on compliance with our protection and hygiene concept. Our staff will of course help to ensure that everything runs smoothly.
Menu (example):
Crispy homemade oven-baked falafel
Tabbouleh salad
Homemade pita bread
Malabi: Arabic dessert with rose water
(The dishes are vegetarian, most of them also vegan)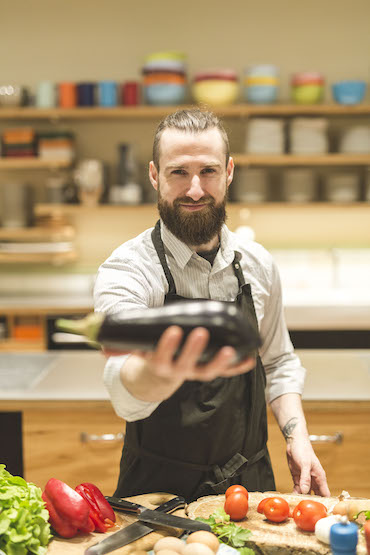 Shay Dashevsky
Born in Israel, Shay grew up in a big melting pot, literally. Raised in a former Soviet family, Shay witnessed and tasted Western Asian influences from his grandmother first hand. Surrounded with smells coming from the mixed Moroccan, Iranian, Yemeni neighborhood in the suburban Israeli city, where every open windows was a sweet invitation, Shay began his never ending journey to fusion his past and present, specially after moving to Jaffa. Arabic and Western Asian, Middle Eastern, Ukrainian and Georgian dishes: this course is an open invitation to join this passion for food.
Class type:
Cooking in teams of two — In this class you will cook together with a partner (or sometimes 2 partners) at one station. You will be preparing every dish of the menu yourself. Most of the ingredients, already correctly measured, will be waiting for you at your station, so you can start cooking more quickly. Crucial techniques and/or the use of special equipment will be demonstrated by the teacher before you'll have a go yourself. This class is perfect for everyone who likes to have a real hands-on experience.
Duration:
Generally 3.5 to 4 hours (no guarantee).
Menu (example):
Crispy homemade oven-baked falafel
Tabbouleh salad
Homemade pita bread
Malabi: Arabic dessert with rose water
(The dishes are vegetarian, most of them also vegan)