Kochen für den Alltag
Friday, June 23, 2023 at 19 h
Cooking class in German
Kochen für den Alltag
Über Vorratshaltung, Zeitmanagement - 3 Gänge in 30 Minuten
with Lisa Shoemaker
Geschafft von der Arbeit zu Hause angekommen, einen Blick in den Kühlschrank: nichts Brauchbares. Sich genervt ins supermärktliche Feierabendgetümmel stürzen oder den Pizza-Service rufen?
In diesem Kochkurs geht es um intelligente Vorratshaltung und Zeitmanagement:
ein 3-gängiges Essen, das in 30 Minuten für 4 Personen zubereiten lässt, mit Fisch, das wahlweise asiatisch, orientalisch oder mediterran daherkommt
ein 3-gängiges Menü mit Geschmortem, das mit weniger als 30 Min. Arbeit auskommt (aber länger schmort)
schnelle vegetarische Rezepte
mehr als ein Dutzend Pasta-Saucen aus nur 10 Grundzutaten (Tomaten, Sahne, Salbei, Petersilie, Sardellen, Zitrone, Zwiebeln, Knoblauch, Kapern, Speck. Und nein, wir werden nicht alle Saucen machen, aber ihr bekommt die Rezepte)
Wie man sein Gefrierfach mit selbst gemachten "Halbfertigprodukten" nutzen kann
Lang haltbare Vorräte, die man für ca. 50 Euro Investition bunkern kann, aus denen sich Mahlzeiten zaubern lassen, ohne extra einkaufen zu gehen
Exkurs Gemüse und Fleisch: was kann man schnell zubereiten?
Exkurs zu Sättigungsbeilagen jenseits von Kartoffeln, Nudeln und Reis
Exkurs Gewürze: Wie verleiht man Gerichten einen Hauch von Fernost, Orient oder Mittelmeer? Und wir sprechen hier NICHT von Pfifferlingsrahmsuppe aus der Dose, TK-Fisch àla irgendwas mit Kartoffelbrei aus der Tüte und Instant-Pudding zum Nachtisch, sondern von getrockneten Pilzen, schneller
Polenta, gefrorenen Himbeeren usw.
Nachhaltige Tipps: wie ihr Reste verarbeiten könnt und in der Küche Energie spart.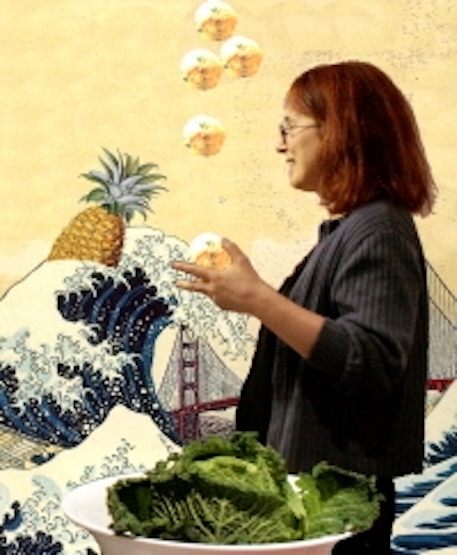 Lisa Shoemaker
In New York in the 80s, Lisa was more concerned with liquid pleasures: She mixed cocktails as a bartender, including at the legendary jazz club Blue Note. She got serious about solid food in the early 90s when she subscribed to an organic vegetable box and had no idea what to cook with all the cabbage, turnips, beetroot and the like. Soon the cabbages were lined up in shrunken-head fashion on the windowsill of her kitchen. Desperation spread, but instead of cancelling the box, she saw it as a challenge and started experimenting and soon she was providing the organic box subscribers with interesting recipes from all over the world every week.
Lisa Shoemaker won 2nd place in the ideas competition organised by the state of Berlin as part of its Zero-Waste Strategy 2021. The sustainable use of food and energy is very close to Lisa's heart and she enthusiastically passes on her experimentally acquired knowledge in all her cooking classes. And of course she cooks with food from organic cultivation, seasonal and regional wherever possible.
Class type:
Cooking in groups — In this class you will form small groups and each group will be cooking some of the dishes listed in the menu. The other dishes will be cooked by your fellow cooking class participants. However, important steps and basic techniques will be demonstrated in front of the entire class and/or practiced together. Of course you will also see and hear what is going on around you and you are very welcome to ask the teacher questions. The class is designed for you to experience diverse dishes and menu components.
Location: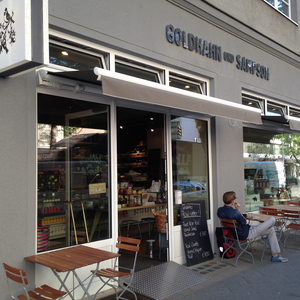 G und S Charlottenburg
Wilmersdorfer Str. 102/103
10629 Berlin
Date:
Friday 23 June, 2023 at 19:00 h
Duration:
Generally 3.5 to 4 hours (no guarantee).
Participants:
max. 16 persons