Jeden Sonntag eine gute Tarte
Sunday, August 7, 2022 at 12 h
Baking class in German
Jeden Sonntag eine gute Tarte
A tarte a day...
with Julia Schneider
Ein lauer Nachmittag im Spätsommer, man sitzt unter einem Baum, schaut ins Grüne oder ein gemütlicher, kalter Wintertag und man sitzt eingekuschelt auf dem Sofa und vor einem steht eine warme, duftende Tarte, mit Mandelcreme. In diesem Backkurs entdecken wir die Vielfalt dieses einzigartigen französischen Gebäcks. Unterschiedliche Teige, aber vor allem unterschiedliche Füllungen, denn nicht nur süß und warm, auch kalt und salzig ist es unendlich schmackhaft – und zu den verschiedensten Gelegenheiten und Tageszeiten eine gute Idee!
In 2-er Teams backt jede/r von euch 2 Tartes, eine süß eine herzhaft, die wir dann gemeinsame probieren und sollte etwas übrig bleiben, dürft ihr das gerne mit nach Hause nehmen.
In Zeiten von Corona: Wichtige Hinweise
Wir bitten um Verständnis, dass wir unser Schutz- und Hygienekonzept der jeweils aktuellen Situation anpassen müssen. Bitte informiere dich kurz vor deinem Besuch über die dann aktuellen Bestimmungen unter folgendem Link:
https://docs.google.com/document/d/1N9NuWXmdQa19LCNbbz5qdep-qmvhG63wLo45NlL1jG4/edit?usp=sharing
Menu:
Haselnuss-Tartelette mit Mandelcreme
Zitronen Tartelette mit Baiserhaube (Lemon Curd)
Tartelette mit Beeren & Crème pâtissière
Tatin von Chircorée, Haselnuss und Honig
Rote Beete, Feige und Thymian
Julia Schneider
Julia ist studierte Juristin, geplante Kunsthistorikerin und gelandet in der Welt der Kommunikation. Aufgewachsen in Süddeutschland mit unterschiedlichster Landwirtschaft in der Familie, kam sie schon früh in die Gunst toller Lebensmittel. Erst der wässrige Geschmack und die pralle Konsistenz von einer Tomate, während ihrer Zeit in Amerika, machte ihr das erste Mal bewusst, was Schmecken eigentlich bedeutet und so fing sie vor genau 16 Jahren an, die Welt der Aromen für sich zu erkunden. Kochen und Backen ist nicht nur eine Leidenschaft, sondern auch Neugierde, Kreativität, Disziplin und Mut. In der Küche gibt es für sie keine Grenzen, außer den bestmöglichen Geschmack.
Photo: Julia Schneider
Class type:
Cooking in groups — In this class you will form small groups and each group will be cooking some of the dishes listed in the menu. The other dishes will be cooked by your fellow cooking class participants. However, important steps and basic techniques will be demonstrated in front of the entire class and/or practiced together. Of course you will also see and hear what is going on around you and you are very welcome to ask the teacher questions. The class is designed for you to experience diverse dishes and menu components.
Location: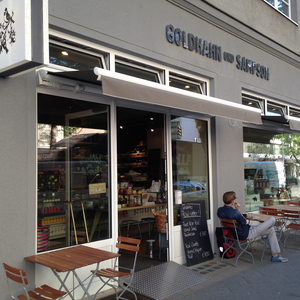 G und S Charlottenburg
Wilmersdorfer Str. 102/103
10629 Berlin
Date:
Sunday 07 August, 2022 at 12:00 h
Duration:
Generally 3.5 to 4 hours (no guarantee).
Participants:
max. 16 persons
Menu:
Haselnuss-Tartelette mit Mandelcreme
Zitronen Tartelette mit Baiserhaube (Lemon Curd)
Tartelette mit Beeren & Crème pâtissière
Tatin von Chircorée, Haselnuss und Honig
Rote Beete, Feige und Thymian