Italy's Wine Regions
Wednesday, August 24, 2022 at 19 h
Seminar and tasting in German
Italy's Wine Regions
From South Tyrol to Sicily
with Sascha Rimkus
Italien ist aus vielen Gründen ein faszinierendes Weinland. Im ganzen Land vom alpinen Norden bis zum sonnenverwöhnten Süden wird Wein gemacht, es gibt sehr viele spannende Weinregionen und Unterregionen, unzählige Weinstile und Anbaumethoden. Aber das Allerschönste ist der große Schatz an autochthonen Rebsorten, bekannten und vor allem auch unbekannten. Genau diesen Schatz wollen wir heben, unterstützt von einer Auswahl echter Charakter-Weine.
Kursdauer ist ca. 3 Stunden.
Zum Wein gibt es etwas Brot & Käse.
In Zeiten von Corona: Wichtige Hinweise
Wir bitten um Verständnis, dass wir unser Schutz- und Hygienekonzept der jeweils aktuellen Situation anpassen müssen. Bitte informiere dich kurz vor deinem Besuch über die dann aktuellen Bestimmungen unter folgendem Link:
https://docs.google.com/document/d/1N9NuWXmdQa19LCNbbz5qdep-qmvhG63wLo45NlL1jG4/edit?usp=sharing
Sascha Rimkus
Born at the North Sea coast of Schleswig-Holstein, Sascha hasn't really grown up with wine. On shore you drink pils and rye and give turists the runaround. Then, after crossing the Hamburg border to the south, his knowledge broadened more and more, culminating in a trip to the wine growing region of Alsace - a trip that lead - so he says - to his awakening. He then went on studying numerous wine menus, spent years working in bars and restaurants, until finally, together with Andreas Klöckner he invented what's now called Goldhahn und Sampson, being as pleased as punch about its wine department expanding on a daily basis.
Class type:
Seminar and tasting
Location: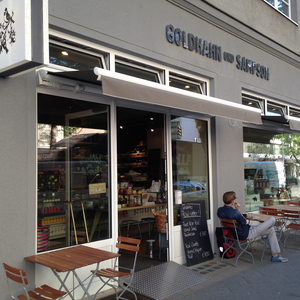 G und S Charlottenburg
Wilmersdorfer Str. 102/103
10629 Berlin
Date:
Wednesday 24 August, 2022 at 19:00 h
Duration:
Generally 2 to 3 hours (no guarantee).
Based on our experiences, the average value for this course is 3 hours.
Participants:
max. 18 persons