Inside Aleppo: Syrische Küche vegan
Monday, February 14, 2022 at 19 h
Cooking class in German
Inside Aleppo: Syrische Küche vegan
Traditional vegan recipes from my syria grandma
with Leis Bagdach
"Alyl, alyl ." sagte meine Großmutter, schichtete die kunstvoll gerollten Weinblätter in einen Kochtopf und sortierte dabei die Exemplare aus, die ihrer Meinung nach zu dick geraten waren (also alle, die ich und mein Vater fabriziert hatten). Übersetzt bedeutet ihr ewiges Mantra in etwa: "Weniger ist mehr". In Anbetracht der gigantischen Menüs, die sie an Festtagen oder für Gäste zubereitete, brauchte ich Jahre, um zu verstehen, was sie damit meinte.
Während in den Restaurants von Aleppo vor allem Hummus, Falafel und Grillfleisch angeboten werden, kann man die wahre, in der ganzen Region hochgelobte Küche dieser 4000 (!) Jahre alten Stadt nur kennenlernen, wenn man das Glück hat, in einem privaten Haushalt zum Essen eingeladen zu werden. Oder indem man selbst kocht!
"Alyl, alyl", das heißt auch: alles braucht seine Zeit. Wir nehmen uns einen Abend und bereiten gemeinsam ein typisch aleppinisches Mahl zu, bei dem alle Gänge zugleich auf den Tisch kommen. Wir entdecken raffinierte Dips, einen orientalischen Salat mit Kräutern und Granatapfelsaft, Linsensuppe mit Verjus, grüne Bohnen mit Koriandersaat und jeder Menge Knoblauch, Baklava mit Pistazien – und werden die gefüllten Weinblätter so dünn rollen, dass meiner Großmutter im Himmel die Freudentränen kommen .
Important rules due to Corona
Our courses are exclusively for recovered and vaccinated people who can prove this with a digital certificate (QR code). Without a valid certificate, you cannot attend the course and your ticket will be forfeited without refund. Please be sure to have your certificate and a document of identification ready for verification at the entrance, otherwise we will not be able to grant you admission. Thank you.
We adhere to the daily guidelines of the Berlin Senate for all courses in our culinary school, so changes at short notice are always possible as well as an additional negative test from the same day or a cancellation of the course, if required by the pandemic situation.
Menu:
Bharat: Grundgewürzmischung
Addis b'Hamoud: Linsensuppe mit Zitrone und Verjus
Mtabbal & Mhammara: zwei unzertrennliche Dips, der eine aus Auberginen, Tahina und Zitrone, der andere mit halbgetrockneter scharfer Paprika, Walnüssen und jeder Menge Granatapfelsirup
Fattousch: Salat mit Minze, frittiertem Fladenbrot und Zitronenschale
Fassolie b'Seet: Grüne Bohnen mit Tomaten, Olivenöl und Koriander
Yalanji Halebi: gefüllte Weinblätter mit Reis, Nüssen, Gewürzen und einer Geheimzutat
Baklawa: Süßer Klassiker in einer Variante mit Kokosöl, gerösteten Pistazien und einem Hauch Rosenwasser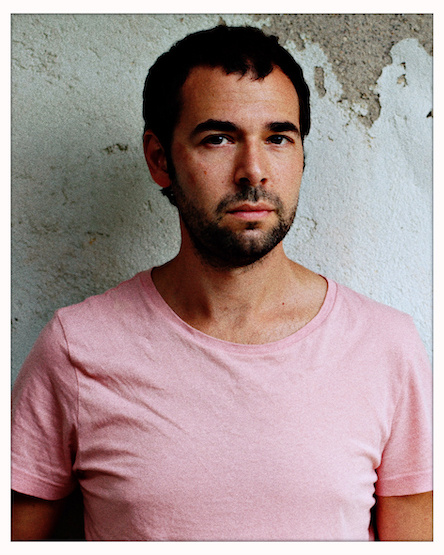 Leis Bagdach
Leis Bagdach, als Sohn einer deutschen Mutter und eines Syrers in Köln geboren, verfügt er über ein riesiges Repertoire an traditionellen Familienrezepten, kocht täglich und leidenschaftlich (und aus Versehen immer für mindestens sechs Personen) und hat auch als hauptberuflicher Drehbuchautor die besten Ideen in der Küche.
Photo: Leis Bagdach
Class type:
Cooking in groups — In this class you will form small groups and each group will be cooking some of the dishes listed in the menu. The other dishes will be cooked by your fellow cooking class participants. However, important steps and basic techniques will be demonstrated in front of the entire class and/or practiced together. Of course you will also see and hear what is going on around you and you are very welcome to ask the teacher questions. The class is designed for you to experience diverse dishes and menu components.
Location: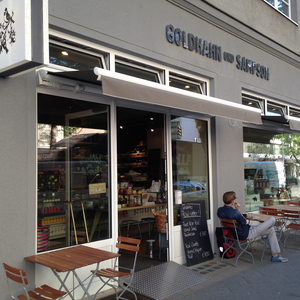 G und S Charlottenburg
Wilmersdorfer Str. 102/103
10629 Berlin
Date:
Monday 14 February, 2022 at 19:00 h
Duration:
Generally 3.5 to 4 hours (no guarantee).
Participants:
max. 16 persons
Menu:
Bharat: Grundgewürzmischung
Addis b'Hamoud: Linsensuppe mit Zitrone und Verjus
Mtabbal & Mhammara: zwei unzertrennliche Dips, der eine aus Auberginen, Tahina und Zitrone, der andere mit halbgetrockneter scharfer Paprika, Walnüssen und jeder Menge Granatapfelsirup
Fattousch: Salat mit Minze, frittiertem Fladenbrot und Zitronenschale
Fassolie b'Seet: Grüne Bohnen mit Tomaten, Olivenöl und Koriander
Yalanji Halebi: gefüllte Weinblätter mit Reis, Nüssen, Gewürzen und einer Geheimzutat
Baklawa: Süßer Klassiker in einer Variante mit Kokosöl, gerösteten Pistazien und einem Hauch Rosenwasser