Indo-Chinese Cuisine in English
Monday, February 7, 2022 at 19 h
Cooking class in English
Indo-Chinese Cuisine in English
Vegan by Default
with Rani Bayat
My first experience of Indo-Chinese cuisine (or Indian Chinese or Sino-Chinese and also Chindian) was in Delhi, in 2001. It was something very different and extremely delicious that exceeded my expectation.
This cuisine evolved from a cultural group called Hakka, a region from China that settled in Kolkata over a century ago. It is the adaptation of Chinese cooking and seasoning as well as cooking techniques for the Indian taste buds. Credits go to Nelson Wang (a second-generation Indian Chinese), a restaurateur who revolutionised Indo-Chinese cuisine. He created both, Manchurian and Schezwan dishes that are unique in taste and still very popular today and one of my favourites! This incredible Indo-Chinese fusion will be the first of its kind, offered at Goldhahn und Sampson.
You will learn very easily how to make these cuisines. The best part, these recipes are quick and simple to prepare, and easily adaptable. All this will be explained during the workshop. Hand on heart you will not fail to impress your guests with this unique flavour profile. My friends from Bavaria made me make this two days in a row as they loved it so much. And some friends still rave about it to this day.
Important rules due to Corona
Our courses are exclusively for recovered and vaccinated people who can prove this with a digital certificate (QR code). Without a valid certificate, you cannot attend the course and your ticket will be forfeited without refund. Please be sure to have your certificate and a document of identification ready for verification at the entrance, otherwise we will not be able to grant you admission. Thank you.
We adhere to the daily guidelines of the Berlin Senate for all courses in our culinary school, so changes at short notice are always possible as well as an additional negative test from the same day or a cancellation of the course, if required by the pandemic situation.
Menu:
Sweetcorn soup
Hakka noodles
Marinaded crispy tofu
Manchurian balls
Mango coconut pudding dessert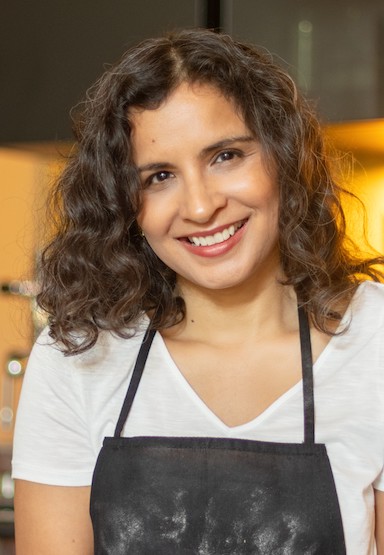 Rani Bayat
I was born in Britain to Indian parents, growing with a dual heritage as well as living in a very diverse cultural environment. This led me to being able to cook a variety of cuisines. I have always had a passion and feeling for cooking and baking vegan and vegetarian food as I am a lifetime lacto vegetarian. The best part of authentic Indian cuisine is most of the dishes are vegan or vegetarian by default and you are never short of churning out tasty dishes. If anything I am thankful to my mother who taught me rural Punjabi cooking and the health benefits of herbs and spices as well as mindful cooking with love. Over the years I naturally progressed, creating fusion foods and developing layers of taste. I married into a half Persian family and have learnt to adapt my vegetarian cooking to a traditionally meat based cuisine. Alongside these favourite cuisines of mine, I can also cook Mexican food, Italian, English, Indo-Chinese and Thai. I like to include and promote whole foods preferably organic within my cooking and I make everything from scratch, while never compromising on taste. I have a sweet tooth and enjoy baking many vegan and vegetarian desserts. Very soon I will be qualified as a nutritionist in vegan and vegetarian food. I am looking forward to sharing my wholesome and delicious recipes to vegetarian and vegan people seeking to learn how to cook healthy tasty food, whether they are transitioning their eating habits due to: environmental, ethical or dietary reasons. I will be here to guide you step by step and talk you through about herbs, spices and many other ingredients as well as the health benefits and how to strike balance in healthy, mindful cooking and eating.
Photo: Melanie Ziggel
Class type:
Cooking in groups — In this class you will form small groups and each group will be cooking some of the dishes listed in the menu. The other dishes will be cooked by your fellow cooking class participants. However, important steps and basic techniques will be demonstrated in front of the entire class and/or practiced together. Of course you will also see and hear what is going on around you and you are very welcome to ask the teacher questions. The class is designed for you to experience diverse dishes and menu components.
Location: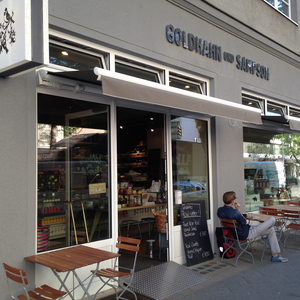 G und S Charlottenburg
Wilmersdorfer Str. 102/103
10629 Berlin
Date:
Monday 07 February, 2022 at 19:00 h
Duration:
Generally 3.5 to 4 hours (no guarantee).
Participants:
max. 16 persons
Menu:
Sweetcorn soup
Hakka noodles
Marinaded crispy tofu
Manchurian balls
Mango coconut pudding dessert
Customers who bought this product also couldn't resist the following: