Grundkurs Fleisch
Saturday, August 27, 2022 at 18 h
Cooking class in German
Grundkurs Fleisch
Vier köstliche Gänge, garantiert französisch
with Yogini Hufendiek
In diesem Kurs widmen wir uns einigen Klassikern der französischen Küche, die nicht kompliziert, dafür aber äußerst "delicieux" sind! Los geht es mit würzig gefüllten Tomaten aus dem Ofen und den typisch französischen Buchweizen-Pfannkuchen mit verschiedenen Käsesorten. Für die Hauptspeise zerlegen wir ein Huhn, um es in Wein zu veredeln, das berühmte Coq au Vin. Und zum Abschluss lernt Ihr, worauf es bei einem Clafoutis ankommt.
Important rules due to Corona
We ask for your understanding that we have to adapt our protection and hygiene concept to the current situation. Please inform yourself shortly before your visit about the current regulations under the following link:
https://docs.google.com/document/d/1N9NuWXmdQa19LCNbbz5qdep-qmvhG63wLo45NlL1jG4/edit?usp=sharing
Menu:
Tomates Provencales
Galettes mit französischem Käse, Salat, Vinaigrette
Coq au Vin, Nussbutter-Kartoffelpüree, Vichy Karotten
Clafoutis mit Beeren
Yogini Hufendiek
Aufgewachsen in Westfalen verbrachte ich die Ferien bei meiner ungarischen Oma, die so leckere ungarische Hausmannskost kochen konnte und in deren Küche magische Gerüche schwebten. Lange Zeit liebte ich das Essen mehr als das Kochen, weil ich das Gefühl hatte, nicht genug darüber zu wissen, was das Kochen ausmacht. Dann wurde die Sehnsucht danach, selber richtig gut kochen zu können immer stärker. Deshalb entschied ich mich, eine richtige Ausbildung zur Köchin zu machen. Nach Jahren auf verschiedenen Posten in angesagten Berliner Restaurants möchte ich in meinen Kursen dazu ermutigen, mehr selber zu Hause zu kochen und die Berührungsängste auf unbekannten Koch-Gebieten zu verringern.
Class type:
Cooking in groups — In this class you will form small groups and each group will be cooking some of the dishes listed in the menu. The other dishes will be cooked by your fellow cooking class participants. However, important steps and basic techniques will be demonstrated in front of the entire class and/or practiced together. Of course you will also see and hear what is going on around you and you are very welcome to ask the teacher questions. The class is designed for you to experience diverse dishes and menu components.
Location: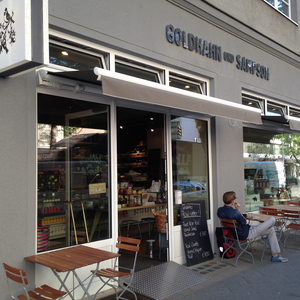 G und S Charlottenburg
Wilmersdorfer Str. 102/103
10629 Berlin
Date:
Saturday 27 August, 2022 at 18:00 h
Duration:
Generally 3.5 to 4 hours (no guarantee).
Participants:
max. 16 persons
Menu:
Tomates Provencales
Galettes mit französischem Käse, Salat, Vinaigrette
Coq au Vin, Nussbutter-Kartoffelpüree, Vichy Karotten
Clafoutis mit Beeren