Glorious German Grub in English - Vegetarian Edition
Friday, June 30, 2023 at 19 h
Cooking class in English
Glorious German Grub in English - Vegetarian Edition
with Lisa Shoemaker
German vegetarian? Seriously? Is there anything beyond potatoes and sauerkraut? Legitimate questions. Yes, there is. No sauerkraut though, at least not in this workshop.
In spring, asparagus dominates every menu. In autumn, mushrooms. Dumplings are all over the place, year-round. Known as Knödel in Southern Germany, Klöße in the North and East. Those encased in a thin pasta dough are called maultaschen in the Southwest.
We will begin our meal with a selection of artisanal German cheeses, accompanied by Graubrot and Schwarzbrot ("grey" and "black" bread) Frankfurt is proud of its green sauce. The EU recognized it as a typical regional dish. While you are familiar with cress, chives, parsley and probably sorrel and chervil, have you ever had borage and salad burnet?
Brezenknödel are a kind of bread dumpling made with Bavarian pretzels.
Torte is an elaborate layered cake and involves whipped cream or buttercream. The whipped cream is usually fortified with gelatin, but this is not necessary if the torte is consumed immediately as I am confident it will be.
Menu:
Bread and cheese
Summer Salad with Frankfurt Green sauce
Chervil soup with maultaschen (German "ravioli")
Brezenknödel (pretzel dumplings) with creamy mushrooms and Spitzkohl (hispi cabbage)
Rhabarber-Erdbeer-Torte (Rhubard-strawberry layer cake)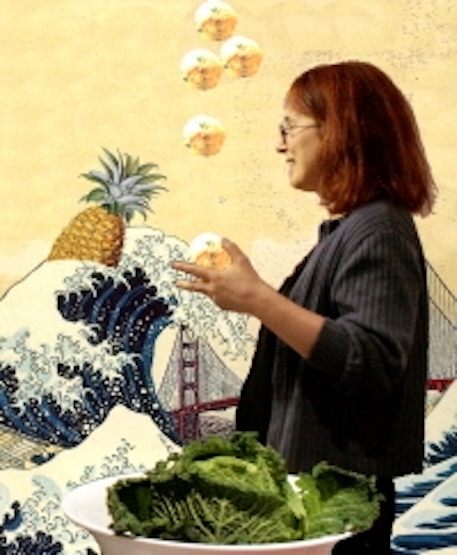 Lisa Shoemaker
Lisa Shoemaker cooks and bakes with children, young people and grown-ups. She also writes and translates cook books. Works: Let's Cook (for young people) and Englisch kochen, as Amerikanisch Kochen from the series Gerichte und ihre Geschichte. She translated among others Cynthia Barcomi's baking books.
Lisa Shoemaker won 2nd place in the ideas competition organised by the state of Berlin as part of its Zero-Waste Strategy 2021. The sustainable use of food and energy is very close to Lisa's heart and she enthusiastically passes on her experimentally acquired knowledge in all her cooking classes. And of course she cooks with food from organic cultivation, seasonal and regional wherever possible.
Class type:
Cooking in groups — In this class you will form small groups and each group will be cooking some of the dishes listed in the menu. The other dishes will be cooked by your fellow cooking class participants. However, important steps and basic techniques will be demonstrated in front of the entire class and/or practiced together. Of course you will also see and hear what is going on around you and you are very welcome to ask the teacher questions. The class is designed for you to experience diverse dishes and menu components.
Location: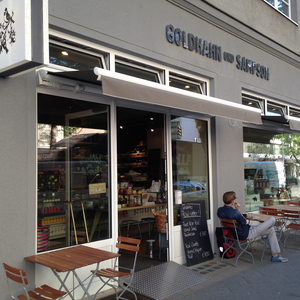 G und S Charlottenburg
Wilmersdorfer Str. 102/103
10629 Berlin
Date:
Friday 30 June, 2023 at 19:00 h
Duration:
Generally 3.5 to 4 hours (no guarantee).
Participants:
max. 16 persons
Menu:
Bread and cheese
Summer Salad with Frankfurt Green sauce
Chervil soup with maultaschen (German "ravioli")
Brezenknödel (pretzel dumplings) with creamy mushrooms and Spitzkohl (hispi cabbage)
Rhabarber-Erdbeer-Torte (Rhubard-strawberry layer cake)