Glorious German Grub in English
Friday, July 15, 2022 at 19 h
Cooking class in English
Glorious German Grub in English
Seasonal German food featuring north sea prawns and Königsberger Klopse
with Lisa Shoemaker
I would like to introduce you to German food beyond the pork & potato stereotype by selecting lesser known seasonal German dishes, and hopefully you will be surprised and delighted to discover that Germany has ingredients you did not know about. Kohlrabi is just beginning to be appreciated internationally, but what about salad burnet? There will be herbs in spring, white asparagus in April and May, berries in summer, mushrooms and quince in fall, braised cabbage in winter and dumplings anytime of year. There will always be a non-pork meat and a vegetarian alternative.
Important rules due to Corona
We ask for your understanding that we have to adapt our protection and hygiene concept to the current situation. Please inform yourself shortly before your visit about the current regulations under the following link:
https://docs.google.com/document/d/1N9NuWXmdQa19LCNbbz5qdep-qmvhG63wLo45NlL1jG4/edit?usp=sharing
Menu:
North Sea Prawn soup
Summer salad with greens, flowers and herbs
Königsberger Klopse: Veal dumplings in a creamy white wine sauce
classic mashed potatoes: learn all about the different kinds of spuds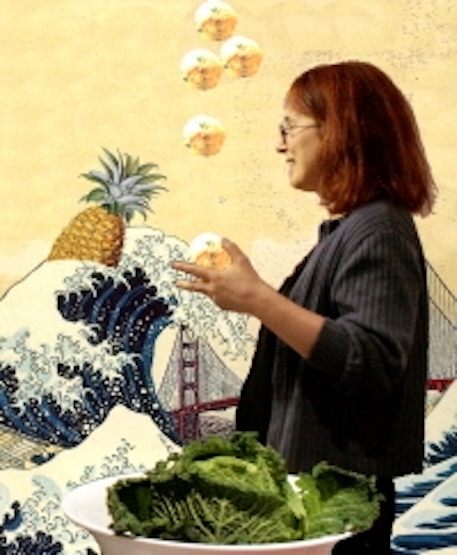 Lisa Shoemaker
Lisa Shoemaker cooks and bakes with children, young people and grown-ups. She also writes and translates cook books. Works: Let's Cook (for young people) and Englisch kochen, as Amerikanisch Kochen from the series Gerichte und ihre Geschichte. She translated among others Cynthia Barcomi's baking books.
Class type:
Cooking in groups — In this class you will form small groups and each group will be cooking some of the dishes listed in the menu. The other dishes will be cooked by your fellow cooking class participants. However, important steps and basic techniques will be demonstrated in front of the entire class and/or practiced together. Of course you will also see and hear what is going on around you and you are very welcome to ask the teacher questions. The class is designed for you to experience diverse dishes and menu components.
Location: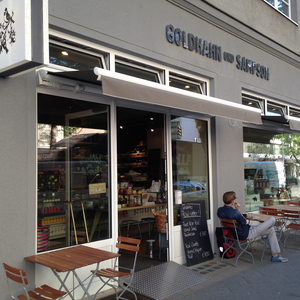 G und S Charlottenburg
Wilmersdorfer Str. 102/103
10629 Berlin
Date:
Friday 15 July, 2022 at 19:00 h
Duration:
Generally 3.5 to 4 hours (no guarantee).
Participants:
max. 16 persons
Menu:
North Sea Prawn soup
Summer salad with greens, flowers and herbs
Königsberger Klopse: Veal dumplings in a creamy white wine sauce
classic mashed potatoes: learn all about the different kinds of spuds
Customers who bought this product also couldn't resist the following: