Stadt, Land, Feld: Regionale vegetarische Tapas
Cooking class in German
Stadt, Land, Feld: Regionale vegetarische Tapas
schnell und einfach, fleischlos glücklich
with Petra Rimkus
Regional, saisonal und vegetarisch, darum geht es in diesem Kurs. Aber ist das wirklich möglich, sich nachhaltig, umweltbewußt und mit kleinstmöglichem CO2-Fußabdruck aus dem Berliner Umland zu ernähren? Auf jeden Fall, sagt Petra, und verweist dabei mit Recht auf regionale Spezialitäten wie Beelitzer Spargel, Teltower Rübchen und Äpfel aus Werder. In dieser Edition erwarten euch unter anderem Kürbis, Radicchio, Birne und Kartoffen aus dem Berlin-Brandenburgerischen und spätestens beim Nachtisch schwebt ihr kulinarisch auf Wolke sieben!
In Zeiten von Corona: Wichtige Hinweise
Wir halten uns bei allen Kursen in unserer Kochschule an die tagesaktuellen Vorgaben des Berliner Senats, daher sind kurzfristige Änderungen jederzeit möglich.
Zusätzlich haben wir ein ausführliches Schutz- und Hygienekonzept für die Kochschule erstellt, und vor dem Kurs wirst du von unseren Kochkursassistent*innen ausführlich über die Regeln informiert. Konkret mussten wir ein paar Änderungen im Ablauf und der Struktur vornehmen, hier die wichtigsten Punkte:
Es müssen mindestens 2 Plätze gebucht werden, d.h. 2 Tickets gekauft werden. Momentan bieten wir ausschließlich die Buchung einer Kochstation für bis zu 2 Personen an. Einzeltickets können vorläufig nicht erworben werden, da die Teilnehmenden Personen des gleichen Haushalts, bzw. Personen aus einem bekannten Haushalts sein müssen. Wer alleine am Kurs teilnehmen möchte, müsste also zwei Tickets kaufen oder eine zweite Person finden.
Maskenpflicht ist kein Witz: Beim Betreten des Ladens und auch beim Kochen, sowie beim beim Gang auf die Toilette müssen alle Kochkursteilnehmer*innen sowie Kochkurslehrer*in und Assistent*innen einen Mund-Nasen-Schutz tragen. Beim Essen am Tisch muss keine Maske getragen werden.
Alkoholausschank findet erst zum Essen am Tisch statt.
Beim Kochen kann man nicht in der Küche herumlaufen und die anderen Stationen 'besuchen'. Aus Sicherheitsgründen bleiben alle an ihren Stationen.
Wir müssen auf der Einhaltung des Hygienekonzepts bestehen. Unsere Kochkursassistent*innen helfen natürlich dabei, dass alles entspannt abläuft.
Menu (example):
Mangold-Päckchen mit Kürbis und Parmesan
Radicchio, Chicorée und Birne
Kürbishummus mit Tomate und Feta
Kartöffelchen in Salzkruste mit Kräuterdipp
warmes Schokotörtchen mit Salzkaramell und Feigen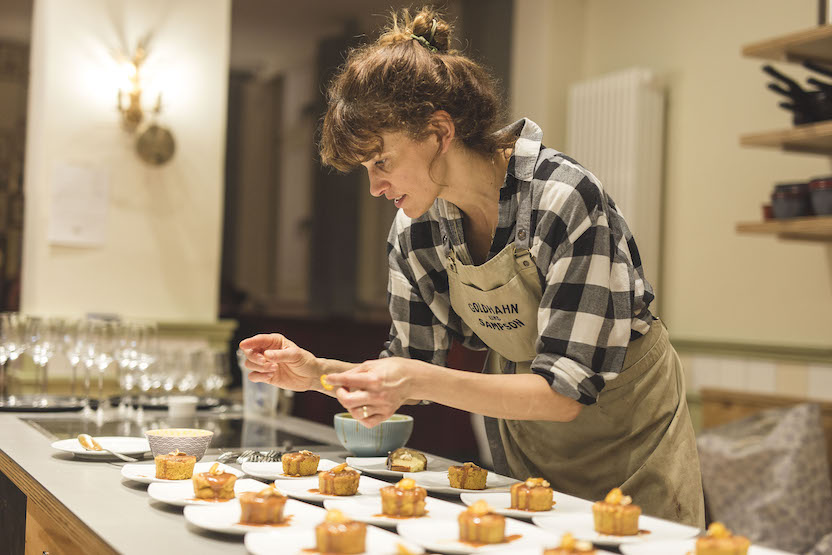 Petra Rimkus
Petra Rimkus, Jahrgang 75, wurde in der Lüneburger Heide geboren und klaute schon als Kind ihrer Oma die Töpfe und Löffel aus der Küche, um im Garten zu kochen. Damit war ihr Schicksal besiegelt und ihr beruflicher Werdegang vorgezeichnet. Seit 2002 tobt sich Petra in Berlins Küchen aus und hat 2012 ihren eigenen Cateringservice deli.cat gegründet. Seit 2020 betreibt sie zudem das EVE coffee & kitchen und verwöhnt die Gäste mit ihren Leckereien.
Photo: Shay Dashevsky
Class type:
Cooking in teams of two — In this class you will cook together with a partner (or sometimes 2 partners) at one station. You will be preparing every dish of the menu yourself. Most of the ingredients, already correctly measured, will be waiting for you at your station, so you can start cooking more quickly. Crucial techniques and/or the use of special equipment will be demonstrated by the teacher before you'll have a go yourself. This class is perfect for everyone who likes to have a real hands-on experience.
Duration:
Generally 3.5 to 4 hours (no guarantee).
Menu (example):
Mangold-Päckchen mit Kürbis und Parmesan
Radicchio, Chicorée und Birne
Kürbishummus mit Tomate und Feta
Kartöffelchen in Salzkruste mit Kräuterdipp
warmes Schokotörtchen mit Salzkaramell und Feigen