Fleischkurs: Tartar, Steak und Schmorbraten
Thursday, June 29, 2023 at 19 h
Cooking class in German
Fleischkurs: Tartar, Steak und Schmorbraten
Fleisch ist unser Gemüse: roh, kurz gebraten und geschmort
with Aniko Hufendiek
In diesem Kurs könnt Ihr Euren "Fleisch-Horizont" erweitern und verschiedene Stücke von Rind und Schwein sowie die dafür geeigneten Garmethoden kennenlernen. Wir beginnen mit einem Klassiker aus Frankreich: Rindertartar. Für die Hauptgänge nehmen wir Steaks von Rind und Schwein zu denen man vielleicht nicht so schnell greift, weil sie weniger bekannt sind, aber trotzdem lecker und nicht schwer zuzubereiten. "Nebenbei" schmoren wir einen Schulterbraten mit einer köstlichen Madeirasauce.
Menu:
Rindertartar mit Röstbrot - rohe Zubereitung
Entrecôte oder Flanksteak vom Rind (nach Verfügbarkeit) ,
Pluma oder Geheimes Filet vom Iberico-Schwein (nach Verfügbarkeit) -kurz braten
Chimichurri
Geschmorte Rinderschulter mit Madeira, Pilzen und Speck, -schmoren
Selleriepüree
Apple Crumble mit Sahne
Aniko Hufendiek
Aufgewachsen in Westfalen verbrachte ich die Ferien bei meiner ungarischen Oma, die so leckere ungarische Hausmannskost kochen konnte und in deren Küche magische Gerüche schwebten. Lange Zeit liebte ich das Essen mehr als das Kochen, weil ich das Gefühl hatte, nicht genug darüber zu wissen, was das Kochen ausmacht. Dann wurde die Sehnsucht danach, selber richtig gut kochen zu können immer stärker. Deshalb entschied ich mich, eine richtige Ausbildung zur Köchin zu machen. Nach Jahren auf verschiedenen Posten in angesagten Berliner Restaurants möchte ich in meinen Kursen dazu ermutigen, mehr selber zu Hause zu kochen und die Berührungsängste auf unbekannten Koch-Gebieten zu verringern.
Class type:
Cooking in groups — In this class you will form small groups and each group will be cooking some of the dishes listed in the menu. The other dishes will be cooked by your fellow cooking class participants. However, important steps and basic techniques will be demonstrated in front of the entire class and/or practiced together. Of course you will also see and hear what is going on around you and you are very welcome to ask the teacher questions. The class is designed for you to experience diverse dishes and menu components.
Location: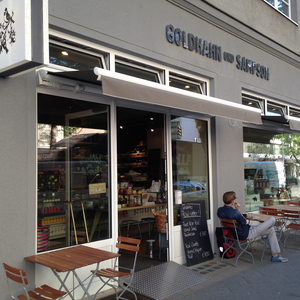 G und S Charlottenburg
Wilmersdorfer Str. 102/103
10629 Berlin
Date:
Thursday 29 June, 2023 at 19:00 h
Duration:
Generally 3.5 to 4 hours (no guarantee).
Participants:
max. 16 persons
Menu:
Rindertartar mit Röstbrot - rohe Zubereitung
Entrecôte oder Flanksteak vom Rind (nach Verfügbarkeit) ,
Pluma oder Geheimes Filet vom Iberico-Schwein (nach Verfügbarkeit) -kurz braten
Chimichurri
Geschmorte Rinderschulter mit Madeira, Pilzen und Speck, -schmoren
Selleriepüree
Apple Crumble mit Sahne