Tasting Brazil
Cooking class in German
Tasting Brazil
Eat like the Girls from Ipanema
with Natalia Rojas Perilla
From Rio de Janeiro until the Amazon region, join us on this culinary journey through different regions from Brazil. Let's discover what historical influences and cultural heritages shaped the cuisine of this country with these traditional and delicious recipes.
Important rules due to Corona
We adhere to the daily guidelines of the Berlin Senate for all courses in our culinary school, so changes at short notice are always possible.
To be able to run cooking classes, we've created a protection and hygiene concept with regards to the current situation. Our cooking class assistants will explain to you the rules before the beginning of the course. These are the most important changes:
As only two people will operate a cooking station, you need to book 2 tickets. Single tickets cannot be purchased for the time being, as the participants must be people from the same household or people from an acquainted household. Of course you can join a cooking class on your own, but you would need to buy two tickets and run your own cooking station.
All cooking course participants as well as cooking course teachers and assistants must wear a mouth and nose protector when entering the store, while cooking or when going to the toilet. It is not necessary to wear a mask when eating at the table.
Alcohol is only served at the table during the meal.
While cooking you are not allowed to walk around the kitchen and 'visit' other cooking stations. Due to safety reasons everyone has to stay at their own station.
We have to insist on compliance with our protection and hygiene concept. Our staff will of course help to ensure that everything runs smoothly.
Menu (example):
Colorful tapioca crepes: Brazilian tapioca-flour crepes
Bobó de Camarão: Cassava & shrimp
Cocadas: Coconut barks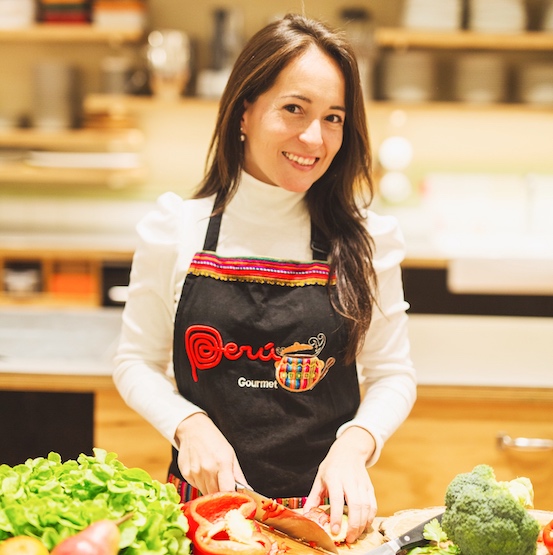 Natalia Rojas Perilla
Her personal motto is: "Everything that is fusion and tastes good is allowed! Natalia is Colombian currently living and working as Statistician in Berlin. She comes from a family of passionate cooking lovers. She is doubtlessly picking up cooking as a hobby. She uses every free minute to explore culinary delights, cooking courses, local markets and international culinary trips. Cooking has become a live passion and an essential part of her life. For these reasons, the blog applepineapple was recently created as a result of this passion
Photo: Natalia Rojas-Perilla
Class type:
Cooking in teams of two — In this class you will cook together with a partner (or sometimes 2 partners) at one station. You will be preparing every dish of the menu yourself. Most of the ingredients, already correctly measured, will be waiting for you at your station, so you can start cooking more quickly. Crucial techniques and/or the use of special equipment will be demonstrated by the teacher before you'll have a go yourself. This class is perfect for everyone who likes to have a real hands-on experience.
Duration:
Generally 3.5 to 4 hours (no guarantee).
Menu (example):
Colorful tapioca crepes: Brazilian tapioca-flour crepes
Bobó de Camarão: Cassava & shrimp
Cocadas: Coconut barks