Sweet and Savory Korean Food in English
Cooking class in English
Sweet and Savory Korean Food in English
Off the beaten path
with Woo Sang Cho
Korean food has become immensely popular in the past decade and it seems as if it hasn't reached its peak yet. Through many Korean restaurants, we're all familiar with some of its classics, but there is so much more to discover in Korean cuisine. Together with chef Woosang you'll embark on a journey to four true highlights and together you'll prepare a wonderful authentic Korean menu.
Important rules due to Corona
We adhere to the daily guidelines of the Berlin Senate for all courses in our culinary school, so changes at short notice are always possible.
To be able to run cooking classes, we've created a protection and hygiene concept with regards to the current situation. Our cooking class assistants will explain to you the rules before the beginning of the course. These are the most important changes:
As only two people will operate a cooking station, you need to book 2 tickets. Single tickets cannot be purchased for the time being, as the participants must be people from the same household or people from an acquainted household. Of course you can join a cooking class on your own, but you would need to buy two tickets and run your own cooking station.
All cooking course participants as well as cooking course teachers and assistants must wear a mouth and nose protector when entering the store, while cooking or when going to the toilet. It is not necessary to wear a mask when eating at the table.
Alcohol is only served at the table during the meal.
While cooking you are not allowed to walk around the kitchen and 'visit' other cooking stations. Due to safety reasons everyone has to stay at their own station.
We have to insist on compliance with our protection and hygiene concept. Our staff will of course help to ensure that everything runs smoothly.
Menu (example):
Zzim Dak - Braised Chicken in Soy Sauce
Dongchimi - Watery and winter version of Radish Kimchi
Geran Zzim- Steamed Egg
Bae Suk - Honey Poached Nashi Pear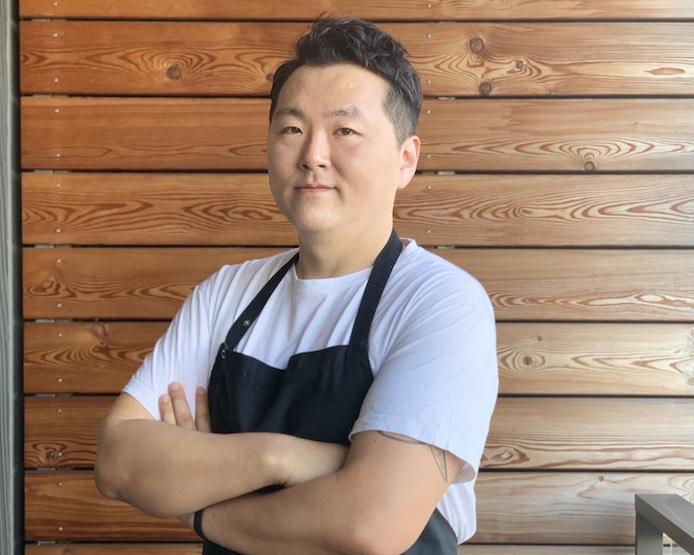 Woo Sang Cho
Woo Sang Cho is a Korean chef, who is certified in Korean, Chinese and French cuisine. He has been trained as chef in London and holds a diploma in Advanced Culinary Art from Westminster Kingsway College, London.
After having worked in several Restaurants for 15 years, he opened his own Restaurant in Seoul. Now he has moved to Berlin and is looking forward to introducing the adventures of Korean cuisine to the Berliners. More impressions of his wonderful dishes you can get on his instagram account.
Photo: Woo Sang Cho
Class type:
Cooking in teams of two — In this class you will cook together with a partner (or sometimes 2 partners) at one station. You will be preparing every dish of the menu yourself. Most of the ingredients, already correctly measured, will be waiting for you at your station, so you can start cooking more quickly. Crucial techniques and/or the use of special equipment will be demonstrated by the teacher before you'll have a go yourself. This class is perfect for everyone who likes to have a real hands-on experience.
Duration:
Generally 3.5 to 4 hours (no guarantee).
Menu (example):
Zzim Dak - Braised Chicken in Soy Sauce
Dongchimi - Watery and winter version of Radish Kimchi
Geran Zzim- Steamed Egg
Bae Suk - Honey Poached Nashi Pear