Dim Sum vegan: Das kleine Glück
Friday, July 28, 2023 at 19 h
Cooking class in German
Dim Sum vegan: Das kleine Glück
"Das Herz berühren"
with Yaxin Yang
Dim Sum ist eine Spezialität der kantonesischen Küche und bedeutet wörtlich "kleine Herzwärmer". Bei den Häppchen handelt es sich vorwiegend um Teigsäckchen oder -Täschchen, die mit den unterschiedlichsten Füllungen serviert werden. Die herrlichen veganen Dim Sums schmecken mega lecker und fettarm: Weiche gedämpfte Brötchen (bao zi), gefüllt mit Pilzen nach asiatischer Art, knusprige Frühlingsrollen (chun juan), gefüllt mit einer Mischung aus Gemüse, Pilzen und Glasnudeln, dazu gibt es noch die dreifarbige gedämpfte Teigtasche (Shumai) und einen erfrischenden Seidentofu Salat.
Menu:
Seidentofu mit Frühlingszwiebel
Gebratene Frühlingsrollen
Fluffige Baozi mit Tofu-Gemüsefüllung
Shumai mit Shiitake-Pilzen und Klebreis
Yaxin Yang
Yaxin Yang, 1977 in Peking geboren und aufgewachsen, Kochbuchautorin und Ernährungsberaterin für vegetarische und vegane Kostformen. Erleben und Experimentieren, authentisches chinesisches Essen mit ausgewählten biologischen und regionalen Zutaten für Gesundheit und Wohlbefinden zu entwickeln ist ihre Leidenschaft und Ausdruck ihres Kochstils. "Die Kochkunst ist meine Welt, voller Lust und Vitalität"!
Mehr über Yaxin Yang: www.soyasoyang.com
Photo: Feipeng Jiang
Class type:
Cooking in groups — In this class you will form small groups and each group will be cooking some of the dishes listed in the menu. The other dishes will be cooked by your fellow cooking class participants. However, important steps and basic techniques will be demonstrated in front of the entire class and/or practiced together. Of course you will also see and hear what is going on around you and you are very welcome to ask the teacher questions. The class is designed for you to experience diverse dishes and menu components.
Location: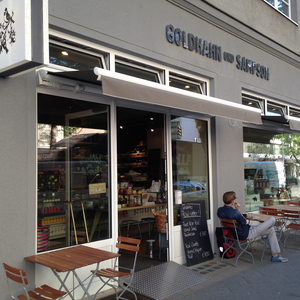 G und S Charlottenburg
Wilmersdorfer Str. 102/103
10629 Berlin
Date:
Friday 28 July, 2023 at 19:00 h
Duration:
Generally 3.5 to 4 hours (no guarantee).
Participants:
max. 16 persons
Menu:
Seidentofu mit Frühlingszwiebel
Gebratene Frühlingsrollen
Fluffige Baozi mit Tofu-Gemüsefüllung
Shumai mit Shiitake-Pilzen und Klebreis