Cowboys and Chili Queens
Thursday, April 20, 2023 at 19 h
Cooking class in German
Cowboys and Chili Queens
Kulinarisches aus der Grenzregion USA/Mexiko: Von Texas über New Mexico und Arizona nach Baja California
with Lisa Shoemaker
In den Grenzregionen zu Mexiko hat sich ein ganz eigener Kochstil entwickelt. Die Mexikaner südlich der Grenze nennen diesen Stil "norteño", die auf der nördlichen Seite der Grenze sprechen von "Border Cooking". Neben der Küche New Orleans' ist es die einzige der großen Küchen der USA, die nicht auf angelsächsischen Traditionen fußt. Santa Fé existierte bereits, als die Mayflower bei Cape Cod vor Anker ging.

Auf dem Programm stehen Quesadillas, wie man Rippchen saftig erhält und das Chili schön mürbe kocht. Und neben der Behandlung von Fleisch (Ribs/Chili) geht es vor allem darum, eigene Dressings, Salsas und Saucen herzustellen, die als Ergänzung zu Fleisch und Gemüse den letzten Kick geben und Köche im Südwesten der USA sind auf diesem Gebiet ganz besonders experimentierfreudig!
Menu:
Zum Auftakt gibt es Quesadillas
Dann bereitet jede Gruppe unterschiedliche Salsas zu, aus Früchten (je nach Saison von Pfirsich über Mango bis Ananas), Tomaten, Chilies, Avocados..., die wir dann zu Fajitas mit saftig gebratenem Huhn essen
Zu den zart geschmorten Ribs wird eine BBQ Sauce zubereitet
San Antonio Chili: geschmorte Ochsenbacken (kein Hack!) mit Chilies, Zwiebeln und Gewürzen, sonst nichts!
Death by Chocolate: Mousse mit Chilies, Tequila und Espresso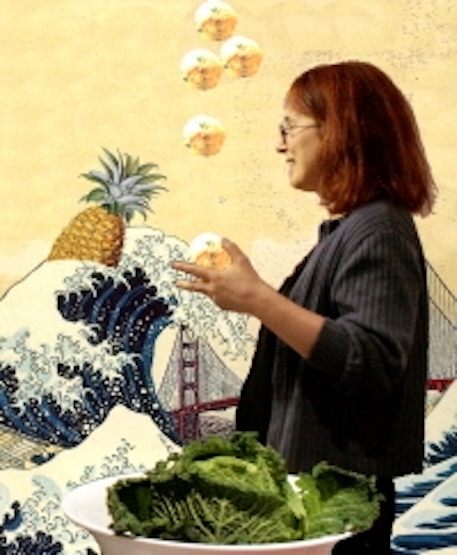 Lisa Shoemaker
Lisa Shoemaker cooks and bakes with children, young people and grown-ups. She also writes and translates cook books. Works: Let's Cook (for young people) and Englisch kochen, as Amerikanisch Kochen from the series Gerichte und ihre Geschichte. She translated among others Cynthia Barcomi's baking books.
Lisa Shoemaker won 2nd place in the ideas competition organised by the state of Berlin as part of its Zero-Waste Strategy 2021. The sustainable use of food and energy is very close to Lisa's heart and she enthusiastically passes on her experimentally acquired knowledge in all her cooking classes. And of course she cooks with food from organic cultivation, seasonal and regional wherever possible.
Class type:
Cooking in groups — In this class you will form small groups and each group will be cooking some of the dishes listed in the menu. The other dishes will be cooked by your fellow cooking class participants. However, important steps and basic techniques will be demonstrated in front of the entire class and/or practiced together. Of course you will also see and hear what is going on around you and you are very welcome to ask the teacher questions. The class is designed for you to experience diverse dishes and menu components.
Location: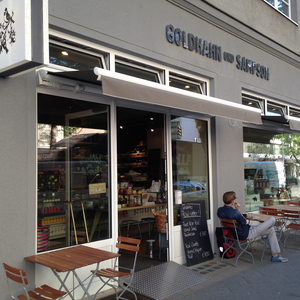 G und S Charlottenburg
Wilmersdorfer Str. 102/103
10629 Berlin
Date:
Thursday 20 April, 2023 at 19:00 h
Duration:
Generally 3.5 to 4 hours (no guarantee).
Participants:
max. 16 persons
Menu:
Zum Auftakt gibt es Quesadillas
Dann bereitet jede Gruppe unterschiedliche Salsas zu, aus Früchten (je nach Saison von Pfirsich über Mango bis Ananas), Tomaten, Chilies, Avocados..., die wir dann zu Fajitas mit saftig gebratenem Huhn essen
Zu den zart geschmorten Ribs wird eine BBQ Sauce zubereitet
San Antonio Chili: geschmorte Ochsenbacken (kein Hack!) mit Chilies, Zwiebeln und Gewürzen, sonst nichts!
Death by Chocolate: Mousse mit Chilies, Tequila und Espresso
Customers who bought this product also couldn't resist the following: