Cheesecake Sunday
Sunday, February 20, 2022 at 12 h
Baking class in German
Cheesecake Sunday
Cheesecake gleich Cheesecake? Von wegen!
with Julia Schneider
Knusprig, süß und cremig, gepaart mit einer samtig weichen Textur gleichend einer ultimativen Dessertdekadenz: Der perfekte Cheesecake. Unter meiner Anleitung werdet Ihr alle Elemente erkunden, die Ihr braucht, um eure ganz eigenen Rezepte zu kreieren. Wir werden uns unterschiedliche Böden anschauen, die manchmal gar nicht viel mit Keksen zu tun haben. Wir werden herausfinden, warum Ricotta und Tee in einem Cheesecake hervorragende Zutaten sind. Wir werden uns Techniken aneignen und Toppings erlernen, die euren Cheesecake zu einem ungeahnten Showstopper machen, und natürlich werden wir uns den häufigsten Problemen, wie den Oberflächenrissen, stellen.
Important rules due to Corona
Our courses are exclusively for recovered and vaccinated people who can prove this with a digital certificate (QR code). Without a valid certificate, you cannot attend the course and your ticket will be forfeited without refund. Please be sure to have your certificate and a document of identification ready for verification at the entrance, otherwise we will not be able to grant you admission. Thank you.
We adhere to the daily guidelines of the Berlin Senate for all courses in our culinary school, so changes at short notice are always possible as well as an additional negative test from the same day or a cancellation of the course, if required by the pandemic situation.
Menu:
New York Cheesecake
Salted Macadamia Caramel Cheesecake with Ricotta
White Chocolate Matcha Kiwi Swirl Cheesecake
Peanut Butter Chocolate Cheesecake
Julia Schneider
Julia ist studierte Juristin, geplante Kunsthistorikerin und gelandet in der Welt der Kommunikation. Aufgewachsen in Süddeutschland mit unterschiedlichster Landwirtschaft in der Familie, kam sie schon früh in die Gunst toller Lebensmittel. Erst der wässrige Geschmack und die pralle Konsistenz von einer Tomate, während ihrer Zeit in Amerika, machte ihr das erste Mal bewusst, was Schmecken eigentlich bedeutet und so fing sie vor genau 16 Jahren an, die Welt der Aromen für sich zu erkunden. Kochen und Backen ist nicht nur eine Leidenschaft, sondern auch Neugierde, Kreativität, Disziplin und Mut. In der Küche gibt es für sie keine Grenzen, außer den bestmöglichen Geschmack.
Photo: Julia Schneider
Class type:
Cooking in teams of two — In this class you will cook together with a partner (or sometimes 2 partners) at one station. You will be preparing every dish of the menu yourself. Most of the ingredients, already correctly measured, will be waiting for you at your station, so you can start cooking more quickly. Crucial techniques and/or the use of special equipment will be demonstrated by the teacher before you'll have a go yourself. This class is perfect for everyone who likes to have a real hands-on experience.
Location: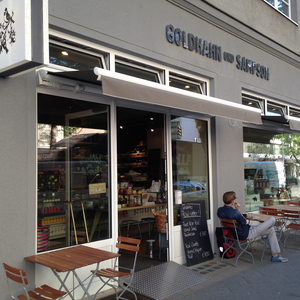 G und S Charlottenburg
Wilmersdorfer Str. 102/103
10629 Berlin
Date:
Sunday 20 February, 2022 at 12:00 h
Duration:
Generally 3.5 to 4 hours (no guarantee).
Participants:
max. 16 persons
Menu:
New York Cheesecake
Salted Macadamia Caramel Cheesecake with Ricotta
White Chocolate Matcha Kiwi Swirl Cheesecake
Peanut Butter Chocolate Cheesecake