California Fusion
Saturday, August 26, 2023 at 18 h
Cooking class in German
California Fusion
The best from Mexiko, Italy and Asia
with Lisa Shoemaker
Since the 60s California Cuisine has been fusioning the best of Mexico, Italy and Asia, using fresh and local ingredients.
Menu:
steamed wontons with chinese pesto
cioppino--the soup from italian fisherman around san francisco bay made from the fresh catch of the day. We make it with an asian twist.
boeuf en mole en daube--freely interpreted after Alice Waters. Provence style beef stew in a mexican sauce.
Tequila pineapple cheesecake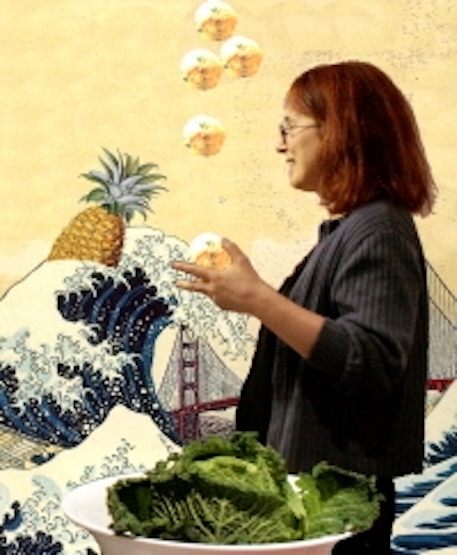 Lisa Shoemaker
Lisa Shoemaker cooks and bakes with children, young people and grown-ups. She also writes and translates cook books. Works: Let's Cook (for young people) and Englisch kochen, as Amerikanisch Kochen from the series Gerichte und ihre Geschichte. She translated among others Cynthia Barcomi's baking books.
Lisa Shoemaker won 2nd place in the ideas competition organised by the state of Berlin as part of its Zero-Waste Strategy 2021. The sustainable use of food and energy is very close to Lisa's heart and she enthusiastically passes on her experimentally acquired knowledge in all her cooking classes. And of course she cooks with food from organic cultivation, seasonal and regional wherever possible.
Class type:
Cooking in groups — In this class you will form small groups and each group will be cooking some of the dishes listed in the menu. The other dishes will be cooked by your fellow cooking class participants. However, important steps and basic techniques will be demonstrated in front of the entire class and/or practiced together. Of course you will also see and hear what is going on around you and you are very welcome to ask the teacher questions. The class is designed for you to experience diverse dishes and menu components.
Location: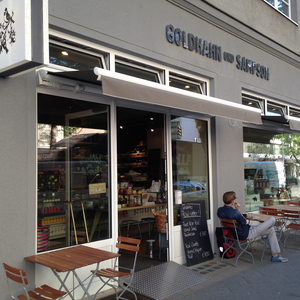 G und S Charlottenburg
Wilmersdorfer Str. 102/103
10629 Berlin
Date:
Saturday 26 August, 2023 at 18:00 h
Duration:
Generally 3.5 to 4 hours (no guarantee).
Participants:
max. 16 persons
Menu:
steamed wontons with chinese pesto
cioppino--the soup from italian fisherman around san francisco bay made from the fresh catch of the day. We make it with an asian twist.
boeuf en mole en daube--freely interpreted after Alice Waters. Provence style beef stew in a mexican sauce.
Tequila pineapple cheesecake