Basic Class Poultry
Wednesday, February 23, 2022 at 19 h
Cooking class in German
Basic Class Poultry
Of deboned quails and carved chickens
with Lisa Shoemaker
Um uns mit der Anatomie des Geflügels ein wenig vertraut zu machen, entbeinen wir zunächst, jeweils in 2er Gruppen, eine Wachtel. Die wird dann gleich mit Salbei und Speck ummantelt, gebraten und gegessen, und ohne die vielen Knöchelchen isst sie sich viel angenehmer. Anschließend zerlegen wir in 3er Gruppen ganze Hühner in Unter- und Oberkeule, Brust und Flügel, bis wir nur noch die Karkasse haben. Aus letzterer kochen wir Brühe. Die Unterkeulen parfümieren wir mit Kräutern im Ofen zu Pollo Profumato. Die Oberkeulen werden mit reichlich Paprika, Zwiebeln und Schmand zu einem Paprikasch, ein sehr leckeres unkompliziertes Gericht. Dann braten wir die Hühnerbrüste so an, dass sie saftig bleiben. Durch Druck mit den Fingern lernt ihr, den richtigen Gargrad des Fleisches zu bestimmen. Serviert werden sie dann asiatisch angehaucht mit Kokosmilch und Limetten. Zum Nachtisch gibt es Salzburger Nockerln, nicht als große Wellen, sondern individuell in kleinen Souffléförmchen. Die Zubereitung dauert 15 Minuten, vom Aufschlagen der Eier bis zum Servieren.
Nebenher erklärt Lisa auch, warum die Verwendung eines ganzen Huhns tatsächlich dazu beiträgt, unseren ökologischen Fußabdruck zu verringern.
Important rules due to Corona
Our courses are exclusively for recovered and vaccinated people who can prove this with a digital certificate (QR code). Without a valid certificate, you cannot attend the course and your ticket will be forfeited without refund. Please be sure to have your certificate and a document of identification ready for verification at the entrance, otherwise we will not be able to grant you admission. Thank you.
We adhere to the daily guidelines of the Berlin Senate for all courses in our culinary school, so changes at short notice are always possible as well as an additional negative test from the same day or a cancellation of the course, if required by the pandemic situation.
Menu:
Das Menü kann von der aktuellen Marktlage am Tag des Kochkurses beeinflusst werden. Frei nach dem Motto: Wenns keine Äpfel gibt, nehmen wir eben Birnen!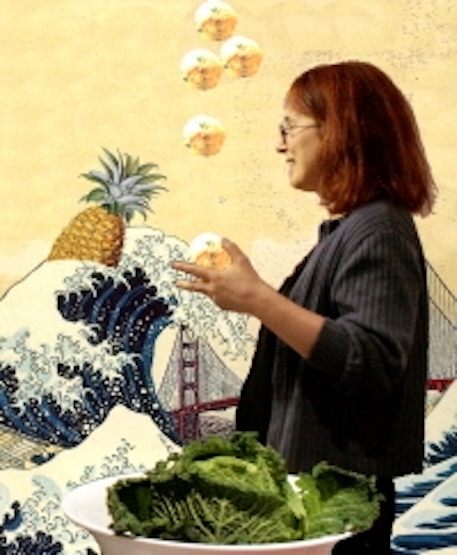 Lisa Shoemaker
Lisa Shoemaker cooks and bakes with children, young people and grown-ups. She also writes and translates cook books. Works: Let's Cook (for young people) and Englisch kochen, as Amerikanisch Kochen from the series Gerichte und ihre Geschichte. She translated among others Cynthia Barcomi's baking books.
Class type:
Cooking in groups — In this class you will form small groups and each group will be cooking some of the dishes listed in the menu. The other dishes will be cooked by your fellow cooking class participants. However, important steps and basic techniques will be demonstrated in front of the entire class and/or practiced together. Of course you will also see and hear what is going on around you and you are very welcome to ask the teacher questions. The class is designed for you to experience diverse dishes and menu components.
Location: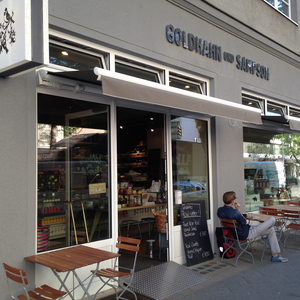 G und S Charlottenburg
Wilmersdorfer Str. 102/103
10629 Berlin
Date:
Wednesday 23 February, 2022 at 19:00 h
Duration:
Generally 3.5 to 4 hours (no guarantee).
Participants:
max. 16 persons
Menu:
Das Menü kann von der aktuellen Marktlage am Tag des Kochkurses beeinflusst werden. Frei nach dem Motto: Wenns keine Äpfel gibt, nehmen wir eben Birnen!