Backkurs Steinobst
Sunday, August 28, 2022 at 12 h
Baking class in German
Backkurs Steinobst
with Lisa Shoemaker
Aprikosen, Pflaumen, Pfirsiche sind Steinfrüchte aus der Familie der Rosengewächse. Gelegentlich kann man bei Aprikosen und Pfirsichen sogar einen Hauch von Rosenaroma herausschmecken. Und sie eignen sich wie ihre kernigen Cousins Apfel, Quitte und Birne hervorragend zu Backen. Leider bekommt man zunehmend Früchte von Sorten, die sehr haltbar aber geschmacklos sind und/oder die zu früh gepflückt wurden. Aber keine Sorge, selbst diese Früchte entwickeln beim Backen Aroma.
Wir verwenden in diesem Kurs nur Zutaten aus biologischem Anbau.
Wir steigen damit ein, dass wir zwei Teige machen: einen mit Hefe fü bayrischen Zwetschgendatschi vom Blech und einen Mürbeteig für 2 Aprikosentartes: die eine mit Guss und die andere mit Mandeln (ebenfalls aus der Familie der Rosen).
In der Zeit, in der der Mürbeteig kühl ruht und der Hefeteig geht, veranstalten wir einen kleinen Wettbewerb: Peach Crumble vs. Peach Cobbler. Das sind zwei schnelle Zubereitungsarten, die ohne einen klassischen Boden auskommen: Crumble nach dem Streuselprinzip, während der Cobbler einen relativ flüssigen Teig verwendet. Cobblers sind in den USA sehr beliebt, und dort werden auch schon mal Dosenfrüchte eingesetzt. Machen wir natürlich nicht.
Vanille-Eis und Schlagsahne stehen zur Verkostung bereit.
In Zeiten von Corona: Wichtige Hinweise
Wir bitten um Verständnis, dass wir unser Schutz- und Hygienekonzept der jeweils aktuellen Situation anpassen müssen. Bitte informiere dich kurz vor deinem Besuch über die dann aktuellen Bestimmungen unter folgendem Link:
https://docs.google.com/document/d/1N9NuWXmdQa19LCNbbz5qdep-qmvhG63wLo45NlL1jG4/edit?usp=sharing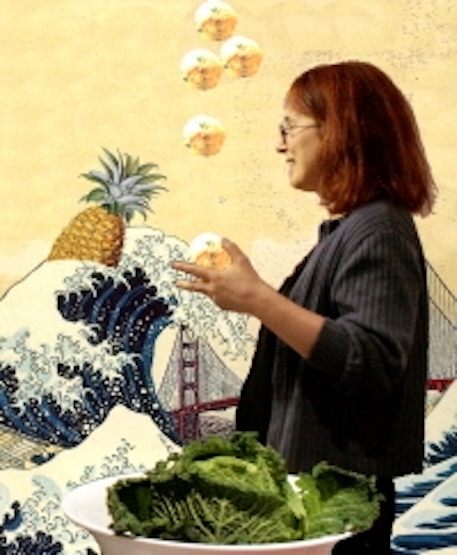 Lisa Shoemaker
Lisa Shoemaker cooks and bakes with children, young people and grown-ups. She also writes and translates cook books. Works: Let's Cook (for young people) and Englisch kochen, as Amerikanisch Kochen from the series Gerichte und ihre Geschichte. She translated among others Cynthia Barcomi's baking books.
Class type:
Cooking in groups — In this class you will form small groups and each group will be cooking some of the dishes listed in the menu. The other dishes will be cooked by your fellow cooking class participants. However, important steps and basic techniques will be demonstrated in front of the entire class and/or practiced together. Of course you will also see and hear what is going on around you and you are very welcome to ask the teacher questions. The class is designed for you to experience diverse dishes and menu components.
Location: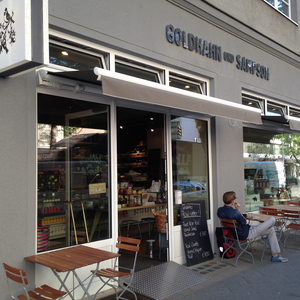 G und S Charlottenburg
Wilmersdorfer Str. 102/103
10629 Berlin
Date:
Sunday 28 August, 2022 at 12:00 h
Duration:
Generally 3.5 to 4 hours (no guarantee).
Participants:
max. 16 persons