Armenische Küche: ein Fest für die Sinne
Saturday, February 26, 2022 at 18 h
Cooking class in German
Armenische Küche: ein Fest für die Sinne
Kulinarische Entdeckungen zwischen Asien und Europa
with Zara Safaryan
Frage an Radio Jerewan: "Kennen Sie die Armenische Küche?" Radio Jerewan antwortet: "Im Prinzip ja. Aber noch nie probiert." Auf diese Frage möchte die Kochbuchautorin Zara in ihrem Kochkurs zur Armenischen Küche eine schlagfertige Antwort geben. In diesem Kurs könnt ihr die facettenreiche, jahrtausende alte armenische Küche entdecken, der die Deutsch-Armenierin eine moderne, überwiegend vegetarische Note gibt.
Important rules due to Corona
Our courses are exclusively for recovered and vaccinated people who can prove this with a digital certificate (QR code). Without a valid certificate, you cannot attend the course and your ticket will be forfeited without refund. Please be sure to have your certificate and a document of identification ready for verification at the entrance, otherwise we will not be able to grant you admission. Thank you.
We adhere to the daily guidelines of the Berlin Senate for all courses in our culinary school, so changes at short notice are always possible as well as an additional negative test from the same day or a cancellation of the course, if required by the pandemic situation.
Menu:
Hackfleisch mit Quitten und Äpfeln
Grüne Bohnen mit Ei dazu Joghurt-Knoblauchsauce und Bulgur
Gebratene Zucchini
Salat "Jerewan" mit Tomate, Gurke und Kräutern
Kürbis gefüllt mit Rosinen und Aprikosen-Reis
und als Absacker: Armenischer Brandy
(Saisonale Änderungen vorbehalten)
Zara Safaryan
Die seit 20 Jahren in Berlin lebende Deutsch-Armenierin Zara Safaryan hat ein besonderes Kochbuch mit armenischen Gerichten aus ihrer Kindheit in Jerewan geschrieben. Das Land Armenien, das in den letzten Jahren für Westeuropäer kulturgeschichtlich ein neues, spannendes Reiseziel geworden ist, ist auch durch sein kulinarisches Erbe interessant. Zara hat Germanistik an der Staatlichen Universität zu Jerewan und anschließend an der FU Berlin studiert. Z. Zt. lebt sie in Berlin und ist Mitbegründer des Verlags Casanomade.
Photo: Rose Eisen
Class type:
Cooking in groups — In this class you will form small groups and each group will be cooking some of the dishes listed in the menu. The other dishes will be cooked by your fellow cooking class participants. However, important steps and basic techniques will be demonstrated in front of the entire class and/or practiced together. Of course you will also see and hear what is going on around you and you are very welcome to ask the teacher questions. The class is designed for you to experience diverse dishes and menu components.
Location: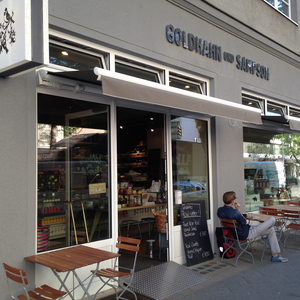 G und S Charlottenburg
Wilmersdorfer Str. 102/103
10629 Berlin
Date:
Saturday 26 February, 2022 at 18:00 h
Duration:
Generally 3.5 to 4 hours (no guarantee).
Participants:
max. 16 persons
Menu:
Hackfleisch mit Quitten und Äpfeln
Grüne Bohnen mit Ei dazu Joghurt-Knoblauchsauce und Bulgur
Gebratene Zucchini
Salat "Jerewan" mit Tomate, Gurke und Kräutern
Kürbis gefüllt mit Rosinen und Aprikosen-Reis
und als Absacker: Armenischer Brandy
(Saisonale Änderungen vorbehalten)