LIVE ONLINE: Weihnachtsbacken
Baking class in German
LIVE ONLINE: Weihnachtsbacken
Live und online in deiner Küche
with Lisa Shoemaker
Wer kennt sie nicht, die hübsch dekorierten Backwaren, die alle Jahre wieder hart, fad und süß auf weihnachtlichen Papptellern die Runde machen, statt buttrig schmelzend und nussig aromatisch auf der Zunge zu zergehen? Wir backen daher nur die wirklich leckeren Sachen – nach alten Rezepten aus meiner Familie mit viel Butter und Nüssen, die meisten gehen auf meinen Lothringer Großvater Willi zurück, von Beruf Konditor.
Wir sprechen darüber, was alles beim Plätzchenbacken zu beachten ist und welche Fehler man machen kann, und wir werden gemeinsam GUTE Butterplätzchen, Elisenlebkuchen, Gingerbread und Kipferl backen.
Ein Ticket gilt für einen Haushalt.
Dauer: ca. 2 Stunden
Was du brauchst?
Deine Küche + Zutaten (Einkaufsliste bekommst du vorab)
WLAN für deine Teilnahme über Zoom (Video Meeting)
Einen Laptop mit Kamera, einem aktuellen Betriebssystem und einem aktuellen Browser (Ihr müsst Zoom nicht vorab installieren, könnt ihr aber)
Alternativ (Laptop wird empfohlen): geht auch ein Tablet oder Handy mit Kamera, dann müsstest du vorab die Zoom App herunterladen
Ca. 1,5 Stunden Zeit
So läuft der Online-Kochkurs ab:
Nach einer kurzen Begrüßung folgt die eine Einführung zu Zutaten und Equipment. Dann geht es direkt los und du schnippelst und kochst zu Hause, während unsere Kochlehrer*innen dir alles genau zeigen und die Schritte erklären. Fragen kannst du jederzeit über eine Chat stellen und sie werden dir live beantwortet. Wenn das Essen fertig ist, loggst du dich entweder aus und genießt dein Essen allein und offline oder aber, du bleibst weiter dabei und wir teilen euch in Gruppen von vier Personen auf und du hast Gelegenheit 'gemeinsam' mit anderen Teilnehmern zu essen und dich auszutauschen. Die/Der Kochlehrer*in schaut auch einmal bei euch vorbei. Zum Abschluss holen kommen wir wieder alle zusammen und es können letzte Fragen gestellt werden.
Menu (example):
Gute Butterplätzchen
Elisenlebkuchen
Gingerbread
Kipferl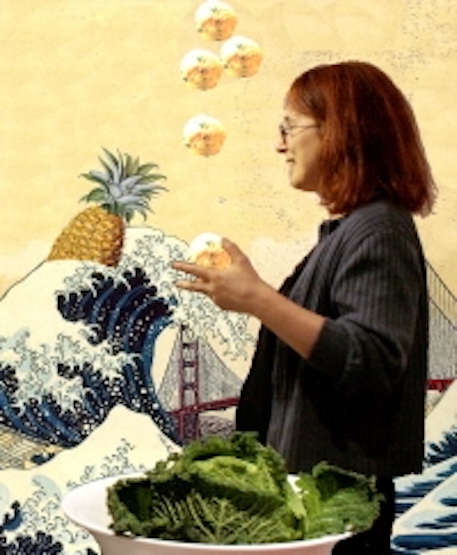 Lisa Shoemaker
Lisa Shoemaker cooks and bakes with children, young people and grown-ups. She also writes and translates cook books. Works: Let's Cook (for young people) and Englisch kochen, as Amerikanisch Kochen from the series Gerichte und ihre Geschichte. She translated among others Cynthia Barcomi's baking books.
Duration:
average 1.5 hours
Menu (example):
Gute Butterplätzchen
Elisenlebkuchen
Gingerbread
Kipferl