California Fusion
Cooking class in German
California Fusion
The best from Mexiko, Italy and Asia
with Lisa Shoemaker
Since the 60s California Cuisine has been fusioning the best of Mexico, Italy and Asia, using fresh and local ingredients.
Important rules due to Corona
We ask for your understanding that we have to adapt our protection and hygiene concept to the current situation. Please inform yourself shortly before your visit about the current regulations under the following link:
https://docs.google.com/document/d/1N9NuWXmdQa19LCNbbz5qdep-qmvhG63wLo45NlL1jG4/edit?usp=sharing
Menu (example):
steamed wontons with chinese pesto
cioppino--the soup from italian fisherman around san francisco bay made from the fresh catch of the day. We make it with an asian twist.
boeuf en mole en daube--freely interpreted after Alice Waters. Provence style beef stew in a mexican sauce.
Tequila pineapple cheesecake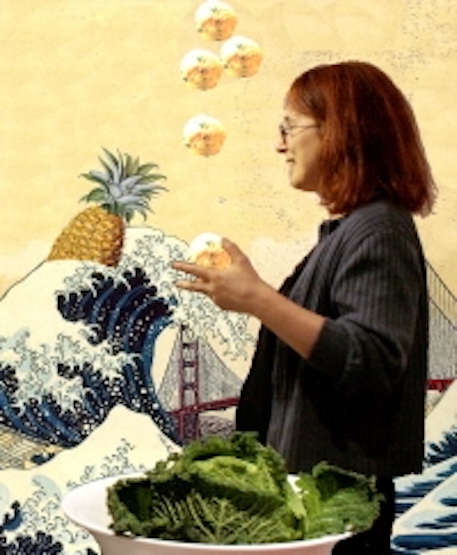 Lisa Shoemaker
Lisa Shoemaker cooks and bakes with children, young people and grown-ups. She also writes and translates cook books. Works: Let's Cook (for young people) and Englisch kochen, as Amerikanisch Kochen from the series Gerichte und ihre Geschichte. She translated among others Cynthia Barcomi's baking books.
Class type:
Cooking in groups — In this class you will form small groups and each group will be cooking some of the dishes listed in the menu. The other dishes will be cooked by your fellow cooking class participants. However, important steps and basic techniques will be demonstrated in front of the entire class and/or practiced together. Of course you will also see and hear what is going on around you and you are very welcome to ask the teacher questions. The class is designed for you to experience diverse dishes and menu components.
Duration:
Generally 3.5 to 4 hours (no guarantee).
Menu (example):
steamed wontons with chinese pesto
cioppino--the soup from italian fisherman around san francisco bay made from the fresh catch of the day. We make it with an asian twist.
boeuf en mole en daube--freely interpreted after Alice Waters. Provence style beef stew in a mexican sauce.
Tequila pineapple cheesecake