Wine Basics
Seminar and tasting in German
Wine Basics
Beginners' wine seminar and tasting
with Sascha Rimkus
Wine, to many, is a minefield. Fist, you need time and confidence to find your taste for it. Then, once a few hurdles are cleared you need another boot to explore the ones you still don't like - certainly you don't want to drink the same wine for the rest of your life, do you? But where to go? Being slightly dizzy already, you look for guidance in books and magazines, but that overblown and euphoistical wine language just finishes you off in a jiffy.
In this course, Sascha will give you the plain basics, a good start so to say. What do wine lables really tell us? What's the difference between all those grape varieties? And what's all the fuzz about vineyards and wine-growing regions?
Theory is not bad at all, but what really matters is your own perception. The proof of the pudding is in the eating, so of course there will be drinking involved!
Important rules due to Corona
To make it possible again to run wine courses and cooking classes, we've created a protection and hygiene concept with regards to the current situation. Our cooking class assistants will explain to you the rules before the beginning of the course. These are the most important changes:
you need to book 2 tickets. Single tickets cannot be purchased for the time being, as the participants must be people from the same household or people from an acquainted household. Of course you can join a wine course on your own, but you would need to buy two tickets or find a second person.
All wine course participants must wear a mouth and nose protector when entering the store or when going to the toilet. It is not necessary to wear a mask when sitting at the table.
We have to insist on compliance with our protection and hygiene concept. Our staff will of course help to ensure that everything runs smoothly.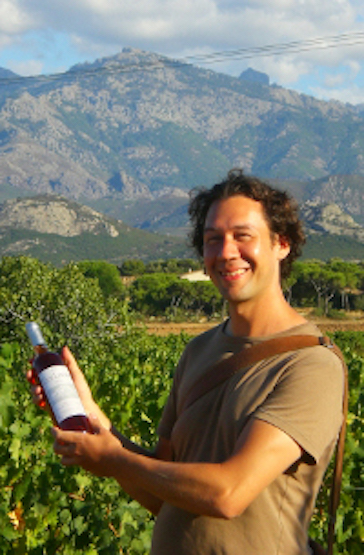 Sascha Rimkus
Born at the North Sea coast of Schleswig-Holstein, Sascha hasn't really grown up with wine. On shore you drink pils and rye and give turists the runaround. Then, after crossing the Hamburg border to the south, his knowledge broadened more and more, culminating in a trip to the wine growing region of Alsace - a trip that lead - so he says - to his awakening. He then went on studying numerous wine menus, spent years working in bars and restaurants, until finally, together with Andreas Klöckner he invented what's now called Goldhahn und Sampson, being as pleased as punch about its wine department expanding on a daily basis.
Class type:
Seminar and tasting
Duration:
Generally 2 to 3 hours (no guarantee).