Alltagsküche: Meal Prep Special
Saturday, February 19, 2022 at 12 h
Cooking class in German
Alltagsküche: Meal Prep Special
kreativ und abwechslungsreich Mahlzeiten vorbereiten
with Lisa Shoemaker
Beim Meal Prep geht es darum, für die Arbeitswoche vorzukochen. Wir bereiten diverse Bausteine für 10 Mahlzeiten für 2 Personen sowie einige Snacks vor. Zum Schluss zeigen wir euch, wie ihr sie unterschiedlich kombinieren könnt, damit es nicht langweilig wird. Und ihr könnt probieren.
Die Bausteine sind so ausgewählt, dass ihr euch auch Mahlzeiten fürs Büro/die Uni usw. zusammenstellen könnt. Ziel ist es, sich die Woche über gesund und ausgewogen mit frischen Zutaten zu ernähren, mal ganz davon abgesehen, dass es auch noch schmecken soll.
Außer dem Spaß am gemeinsamen Kochen und der Vorfreude aufs Essen, bietet Meal Prep folgende Vorteile: Man überlegt sich, was man essen will und kauft entsprechend ein. Spart Zeit, Geld und verschwendet weniger Lebensmittel. Ihr habt die volle Kontrolle darüber, was ihr esst, welche Nährstoffe drin sind und welche Stabilisa-, Emulga- und andere -toren nicht. Da die Mahlzeiten schon vorbereitet sind, ist die Versuchung kleiner, bei knurrendem Magen mal eben schnell etwas zu bestellen oder zu Keksen/zum Fertiggericht zu greifen. Es ist abwechslungsreich: letzte Woche gab es Pasta und Quinoa? Dann diese Woche Reis und Bulgur.
Das Material für unsere Bausteine:
2 verschiedene Proteine (hier im Kurs Huhn und Rind sowie Tofu für Vegetarier und als Inspiration für Fleischfresser)
2 verschiedene Kohlenhydrate
Gemüse, möglichst bunt und saisonal
Hülsenfrüchte
Rohkost
Dipps/Saucen/Dressing
Blattsalate
Snacks
Als Inspiration für die Rezepte dienen uns die Küchen rund ums Mittelmeer und Fernost.
Ihr bekommt von uns - neben den Rezepten und Variationsideen, eine Einkaufsliste für 5 Tage Meal Prep. Wenn ihr motiviert seid, sofort loszulegen, könnt ihr im Anschluss an den Kurs gleich einkaufen gehen.
Und auch weitere Tipps für eure Speisekammer, die sich besonders gut für Meal Prep eignen.
Der Kurs wird geleitet von Lisa und Judith Shoemaker, ein Mutter-Tochter Team. Judith hat am Anfang der Pandemie zusammen mit ihrem Lebensgefährten mit Meal Prep begonnen, blickt also auf anderthalb Jahre Erfahrung zurück. Die beiden sind freiberuflich tätig und treiben viel Sport. Lisa gibt u.a. Kurse zur Alltagsküche. Mütter können auch von Töchtern lernen:).
Important rules due to Corona
Our courses are exclusively for recovered and vaccinated people who can prove this with a digital certificate (QR code). Without a valid certificate, you cannot attend the course and your ticket will be forfeited without refund. Please be sure to have your certificate and a document of identification ready for verification at the entrance, otherwise we will not be able to grant you admission. Thank you.
We adhere to the daily guidelines of the Berlin Senate for all courses in our culinary school, so changes at short notice are always possible as well as an additional negative test from the same day or a cancellation of the course, if required by the pandemic situation.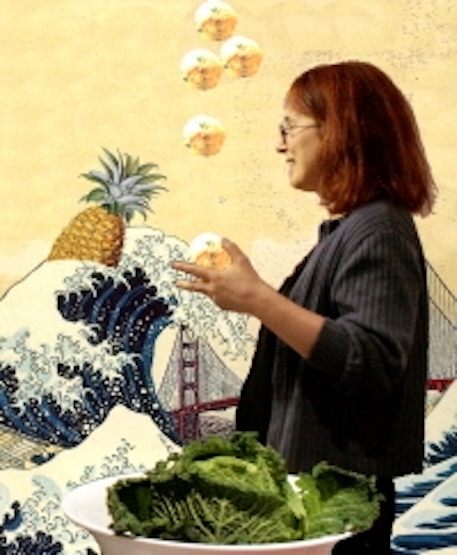 Lisa Shoemaker
Lisa's culinary coming-of-age was multi-cultural long before the term was coined. It was – of course – her mother's fault. As a German language teacher, her mother would invite her students to her big, late 19th century flat in Charlottenburg. The deal was: she bought the booze, the students cooked and little Lisa was delegated to the kitchen to "help". So Lisa chopped chili with Korean nurses – lured to Germany in the 1970s to overcome a shortage –, rolled rice balls stuffed with canned tuna with Japanese students, and after her mother had crossed first North Africa and then Turkey in her Peugeot 404, students from the Southern and Eastern coasts of the Mediterranean steamed couscous, wrapped rice into vine leaves, Israelis and Palestinians bypassed politics and instead discussed whether the chopped salad typical to their region should be called Israeli or Palestinian salad. Lisa did not care, all she knew was that she had encountered herbs and spices that perfectly matched lemon, her favorite ingredient. A lifelong love affair with Middle Eastern food ensued.
Class type:
Cooking in groups — In this class you will form small groups and each group will be cooking some of the dishes listed in the menu. The other dishes will be cooked by your fellow cooking class participants. However, important steps and basic techniques will be demonstrated in front of the entire class and/or practiced together. Of course you will also see and hear what is going on around you and you are very welcome to ask the teacher questions. The class is designed for you to experience diverse dishes and menu components.
Location: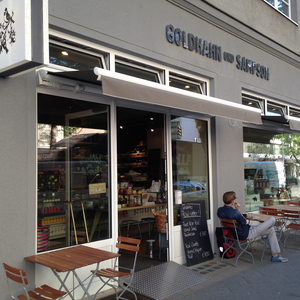 G und S Charlottenburg
Wilmersdorfer Str. 102/103
10629 Berlin
Date:
Saturday 19 February, 2022 at 12:00 h
Duration:
Generally 3.5 to 4 hours (no guarantee).
Participants:
max. 16 persons