Alltagsküche
Friday, August 26, 2022 at 19 h
Cooking class in German
Alltagsküche
Über Vorratshaltung, Zeitmanagement - 3 Gänge in 30 Minuten
with Lisa Shoemaker
Geschafft von der Arbeit zu Hause angekommen, einen Blick in den Kühlschrank: nichts Brauchbares. Sich genervt ins supermärktliche Feierabendgetümmel stürzen oder den Pizza-Service rufen?
In diesem Kochkurs geht es um intelligente Vorratshaltung und Zeitmanagement:
ein 3-gängiges Essen, das in 30 Minuten für 4 Personen zubereiten lässt, mit Fisch, das wahlweise asiatisch, orientalisch oder mediterran daherkommt
ein 3-gängiges Menü mit Geschmortem, das mit weniger als 30 Min. Arbeit auskommt (aber länger schmort)
schnelle vegetarische Rezepte
mehr als ein Dutzend Pasta-Saucen aus nur 10 Grundzutaten (Tomaten, Sahne, Salbei, Petersilie, Sardellen, Zitrone, Zwiebeln, Knoblauch, Kapern, Speck. Und nein, wir werden nicht alle Saucen machen, aber ihr bekommt die Rezepte)
Wie man sein Gefrierfach mit selbst gemachten "Halbfertigprodukten" nutzen kann
Lang haltbare Vorräte, die man für ca. 50 Euro Investition bunkern kann, aus denen sich Mahlzeiten zaubern lassen, ohne extra einkaufen zu gehen
Exkurs Gemüse und Fleisch: was kann man schnell zubereiten?
Exkurs zu Sättigungsbeilagen jenseits von Kartoffeln, Nudeln und Reis
Exkurs Gewürze: Wie verleiht man Gerichten einen Hauch von Fernost, Orient oder Mittelmeer? Und wir sprechen hier NICHT von Pfifferlingsrahmsuppe aus der Dose, TK-Fisch àla irgendwas mit Kartoffelbrei aus der Tüte und Instant-Pudding zum Nachtisch, sondern von getrockneten Pilzen, schneller
Polenta, gefrorenen Himbeeren usw.
Nachhaltige Tipps: wie ihr Reste verarbeiten könnt und in der Küche Energie spart.
Important rules due to Corona
We ask for your understanding that we have to adapt our protection and hygiene concept to the current situation. Please inform yourself shortly before your visit about the current regulations under the following link:
https://docs.google.com/document/d/1N9NuWXmdQa19LCNbbz5qdep-qmvhG63wLo45NlL1jG4/edit?usp=sharing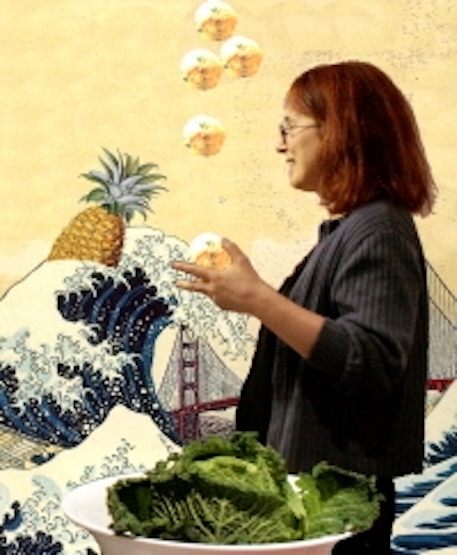 Lisa Shoemaker
Lisa's culinary coming-of-age was multi-cultural long before the term was coined. It was – of course – her mother's fault. As a German language teacher, her mother would invite her students to her big, late 19th century flat in Charlottenburg. The deal was: she bought the booze, the students cooked and little Lisa was delegated to the kitchen to "help". So Lisa chopped chili with Korean nurses – lured to Germany in the 1970s to overcome a shortage –, rolled rice balls stuffed with canned tuna with Japanese students, and after her mother had crossed first North Africa and then Turkey in her Peugeot 404, students from the Southern and Eastern coasts of the Mediterranean steamed couscous, wrapped rice into vine leaves, Israelis and Palestinians bypassed politics and instead discussed whether the chopped salad typical to their region should be called Israeli or Palestinian salad. Lisa did not care, all she knew was that she had encountered herbs and spices that perfectly matched lemon, her favorite ingredient. A lifelong love affair with Middle Eastern food ensued.
Class type:
Cooking in groups — In this class you will form small groups and each group will be cooking some of the dishes listed in the menu. The other dishes will be cooked by your fellow cooking class participants. However, important steps and basic techniques will be demonstrated in front of the entire class and/or practiced together. Of course you will also see and hear what is going on around you and you are very welcome to ask the teacher questions. The class is designed for you to experience diverse dishes and menu components.
Location: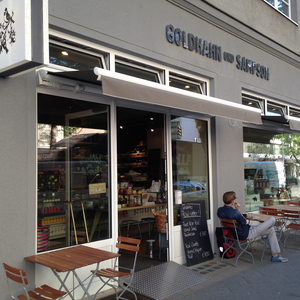 G und S Charlottenburg
Wilmersdorfer Str. 102/103
10629 Berlin
Date:
Friday 26 August, 2022 at 19:00 h
Duration:
Generally 3.5 to 4 hours (no guarantee).
Participants:
max. 16 persons