50° North
Friday, June 2, 2023 at 20 h
Seminar and tasting in German
50° North
The Top League of German wines
with Sascha Rimkus
Deutscher Wein. Gerade beim Rotwein war das bis vor kurzem ein ziemlich delikates Thema. Wenn man ihn Gästen anbot, fragten diese schon mal nach einer Cola oder behaupteten, mit dem Auto da zu sein. Lange Zeit galten die Roten als unausgereifte, rosafarbene und säuerliche Plörre und bei den Weißen sorgte schon das schöne Wort Spätlese für allgemeine Angststarre.
Diese Zeit ist glücklicherweise vorbei. Inzwischen gibt es eine Vielzahl toller, deutscher Weine und auch eine neue Offenheit ihnen gegenüber. Die Rieslinge gehören schon lange zu den besten Weinen der Welt, aber auch die Roten und die Winzersekte haben schwer aufgeholt. Bordeaux-Cuvées aus der Pfalz, Burgunder aus Rheinhessen? Kein Problem, sagt Sascha und versucht diese Behauptung mit einer Verkostung von Weinen zu belegen, auf die die Winzer wirklich stolz sind, sowohl von etablierten Weingütern als auch von echten Geheimtipps.
Sascha Rimkus
Born at the North Sea coast of Schleswig-Holstein, Sascha hasn't really grown up with wine. On shore you drink pils and rye and give turists the runaround. Then, after crossing the Hamburg border to the south, his knowledge broadened more and more, culminating in a trip to the wine growing region of Alsace - a trip that lead - so he says - to his awakening. He then went on studying numerous wine menus, spent years working in bars and restaurants, until finally, together with Andreas Klöckner he invented what's now called Goldhahn und Sampson, being as pleased as punch about its wine department expanding on a daily basis.
Class type:
Seminar and tasting
Location: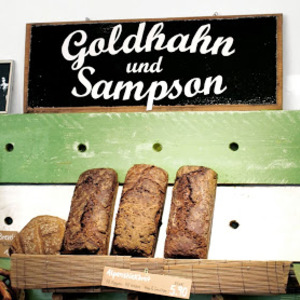 G und S Prenzlauer Berg
Dunckerstr. 9
10437 Berlin
Date:
Friday 02 June, 2023 at 20:00 h
Duration:
Generally 2 to 3 hours (no guarantee).
Participants:
max. 15 persons