Wine and Dine: Weingut Jurtschitsch ist zu Gast
Saturday, February 08, 2020 at 18 h
Seminar and tasting in German
Wine and Dine: Weingut Jurtschitsch ist zu Gast
Weintasting und Dinner
with Bettina Koller und Yogini Hufendiek
Ein einmaliger Abend im Goldhahn und Sampson: Es gibt ein modernes österreichisches 4-Gänge-Menü, gepaart mit großartigen Weinen vom österreichischen Weingut Jurtschitsch. Bettina Koller vom Weingut begleitet den Abend und hat eine tolle Auswahl ihrer Weine im Gepäck. Natürlich perfekt abgestimmt auf das Menü. Es wird ein genussreicher vinophiler Abend.
Wie genau der Bioweinbau funktioniert und warum Jurtschitsch darauf umgestellt haben, wird von Bettina erklärt. Darüber hinaus gibt es einige Anekdoten zur Geschichte des Weinguts und zum Winzerpaar. Und da wir uns in der Kochschule befinden, werden die Gäste natürlich auch hier und da ein wenig selbst Hand anlegen und so bei der entstehung des Menüs mitwirken.
Bitte bei der Buchung angeben, ob ein vegetarisches Menü gewünscht wird. Einzelne Gänge können leider nicht ausgetauscht werden.
Menu:
Amuse
Kräuterzunge, rote Bete aus dem Ofen, Ziegenkäse, Sauerrahm, Orange
Topinambur, geräucherter Aal, rote Zwiebel, Miso
Gefüllte Kalbsbrust, Karotten, Vogerlsalat, Apfel
Topfennockerln, Butterbrösel, Zwetschgenröster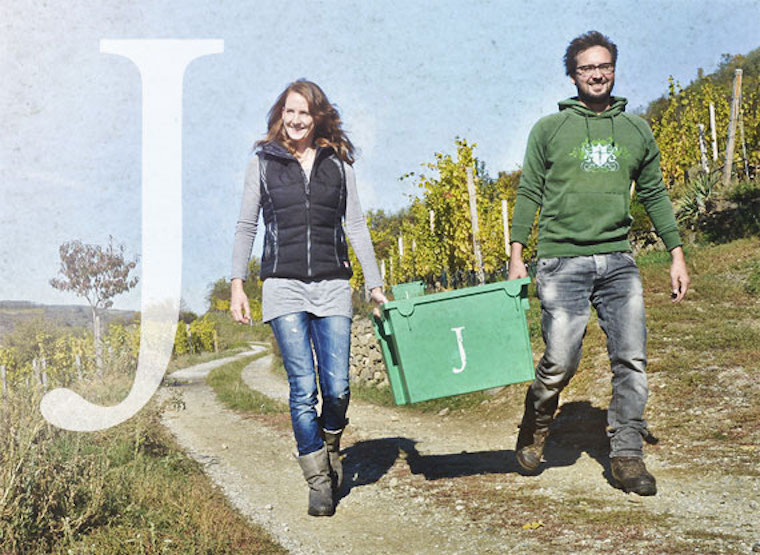 Bettina Koller und Yogini Hufendiek
Über das Weingut
Das Weingut Jurtschitsch steht seit langem nahezu idealtypisch für höchste österreichische Weinkultur. Seit geraumer Zeit leiten Alwin und Stefanie Jurtschitsch nun die Geschicke des Weingutes und interpretieren den Anspruch auf Spitzenwein auf ihre Weise neu. Für die beiden bedeutet das, möglichst authentische, komplexe und terroirspezifische Weine mit kühler, eleganter Stilistik zu vinifizieren - also den Langenloiser Lagen individuell Ausdruck zu verleihen. Neue Parameter, die in Wirklichkeit auf alte Traditionen zurückgehen, bilden die Grundlage hierfür: biologische Wirtschaftsweise, gesunde Böden, minimale Eingriffe im Keller und immer wieder das Experimentieren, um dem unerschöpflichen Reichtum der Weinwelt auf der Spur zu bleiben. Als Alwin und Stefanie die Leitung des Weinguts übernommen haben, war ihre erste Grundsatzentscheidung die Umstellung auf biologische Bewirtschaftung. Zuvor sind die beiden auf ihren Reisen durch die Weinwelt zur Überzeugung gelangt, dass es nicht nur ein ethisches Prinzip ist, nachhaltig zu arbeiten, sondern dass ein weiterer Qualitätssprung nur über gesunde Böden und Reben führen kann. So wird als Dünger Kuhmist ausgeführt; Bodenbegrünung ist ein wichtiges Thema, ebenso das Durchbrechen der Monokultur "Wein" durch die Auspflanzung von Pfirsichbäumen und Weingartenknoblauch. Langfristiges Ziel ist es, auf Bewässerung zu verzichten, indem die Reben so gesund und so autonom wie möglich gemacht werden. Gesunde Reben sind aber nicht nur widerstandsfähiger, sie bringen auch intensivere Weine hervor.
Über Yogini
Aufgewachsen in Westfalen verbrachte ich die Ferien bei meiner ungarischen Oma, die so leckere ungarische Hausmannskost kochen konnte und in deren Küche magische Gerüche schwebten. Lange Zeit liebte ich das Essen mehr als das Kochen, weil ich das Gefühl hatte, nicht genug darüber zu wissen, was das Kochen ausmacht. Dann wurde die Sehnsucht danach, selber richtig gut kochen zu können immer stärker. Deshalb entschied ich mich, eine richtige Ausbildung zur Köchin zu machen. Nach Jahren auf verschiedenen Posten in angesagten Berliner Restaurants möchte ich in meinen Kursen dazu ermutigen, mehr selber zu Hause zu kochen und die Berührungsängste auf unbekannten Koch-Gebieten zu verringern.
Photo: Weingut Jurtschitsch
Class type:
Cooking in groups — In this class you will form small groups and each group will be cooking some of the dishes listed in the menu. The other dishes will be cooked by your fellow cooking class participants. However, important steps and basic techniques will be demonstrated in front of the entire class and/or practiced together. Of course you will also see and hear what is going on around you and you are very welcome to ask the teacher questions. The class is designed for you to experience diverse dishes and menu components.
Location: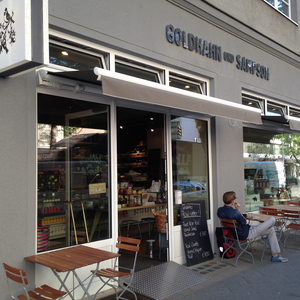 G und S Charlottenburg
Wilmersdorfer Str. 102/103
10629 Berlin
Date:
Saturday 08 February, 2020 at 18:00 h
Duration:
Generally 3.5 to 4 hours (no guarantee).
Participants:
max. 16 persons
Menu:
Amuse
Kräuterzunge, rote Bete aus dem Ofen, Ziegenkäse, Sauerrahm, Orange
Topinambur, geräucherter Aal, rote Zwiebel, Miso
Gefüllte Kalbsbrust, Karotten, Vogerlsalat, Apfel
Topfennockerln, Butterbrösel, Zwetschgenröster