Wine Basics
Tuesday, August 18, 2020 at 19 h
Seminar and tasting in German
Wine Basics
Beginners' wine seminar and tasting
with Sascha Rimkus
Wine, to many, is a minefield. Fist, you need time and confidence to find your taste for it. Then, once a few hurdles are cleared you need another boot to explore the ones you still don't like - certainly you don't want to drink the same wine for the rest of your life, do you? But where to go? Being slightly dizzy already, you look for guidance in books and magazines, but that overblown and euphoistical wine language just finishes you off in a jiffy.
In this course, Sascha will give you the plain basics, a good start so to say. What do wine lables really tell us? What's the difference between all those grape varieties? And what's all the fuzz about vineyards and wine-growing regions?
Theory is not bad at all, but what really matters is your own perception. The proof of the pudding is in the eating, so of course there will be dinking involved!
In Zeiten von Corona: Wichtige Hinweise
Wir haben ein ausführliches Schutz- und Hygienekonzept für die Kochschule und die Weinkurse erstellt, und vor dem Kurs wirst du von unseren Kochkursassistenten ausführlich über die Regeln informiert. Konkret mussten wir ein paar Änderungen im Ablauf und der Struktur vornehmen, hier die wichtigsten Punkte für Weinkurse:
Ein Ticket für bis zu vier Personen: Momentan bieten wir ausschließlich die Buchung eines 4er-Tisches für Weinkurse an. Der Tisch kann mit bis zu vier Personen aus einem Haushalt oder aus miteinander vertrauten Haushalten belegt werden. Natürlich ist es auch möglich, mit einer, zwei oder drei Personen teilzunehmen, aber es müssen immer vier Tickets erworben werden. Warum machen wir das? Aufgrund der geltenden Abstandsregeln ist es nicht möglich, Personen, die nicht zu einem Haushalt gehören oder sich kennen, gemeinsam an einen Tisch zu setzen. Da wir nur vier Tische einrichten können, würden Einzelbuchungen bedeuteten, dass nur vier Personen an einem Kurs teilnehmen könnten. Kurse mit so wenigen Teilnehmern sind aus wirtschaftlichen Gründen leider nicht möglich, weshalb wir (vorerst) die Regelung der "Viererfahrkarte" getroffen haben.
Maskenpflicht ist kein Witz: Beim Betreten des Ladens müssen alle Weinkursteilnehmer einen Mund-Nasen-Schutz tragen. Sobald wir euch am Tisch platziert haben, muss aber keine Maske mehr getragen werden.
Wir müssen auf die Einhaltung des Hygienekonzepts bestehen. Unser Team muss natürlich dabei, dass alles entspannt abläuft.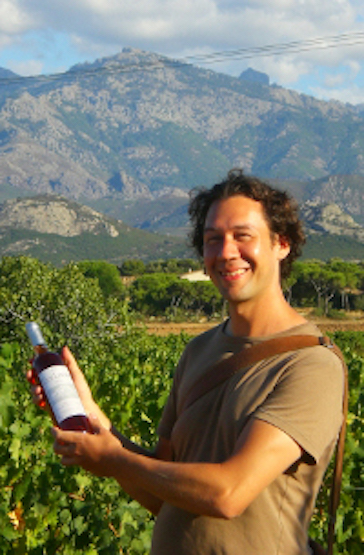 Sascha Rimkus
Born at the North Sea coast of Schleswig-Holstein, Sascha hasn't really grown up with wine. On shore you drink pils and rye and give turists the runaround. Then, after crossing the Hamburg border to the south, his knowledge broadened more and more, culminating in a trip to the wine growing region of Alsace - a trip that lead - so he says - to his awakening. He then went on studying numerous wine menus, spent years working in bars and restaurants, until finally, together with Andreas Klöckner he invented what's now called Goldhahn und Sampson, being as pleased as punch about its wine department expanding on a daily basis.
Class type:
Seminar and tasting
Location: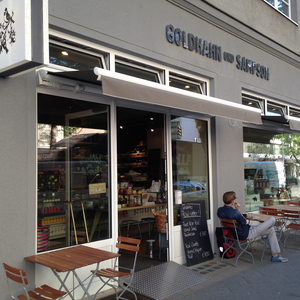 G und S Charlottenburg
Wilmersdorfer Str. 102/103
10629 Berlin
Date:
Tuesday 18 August, 2020 at 19:00 h
Duration:
Generally 3.5 to 4 hours (no guarantee).
Participants:
max. 12 persons