Wein und Meze: Ägäis und Levante
Monday, June 22, 2020 at 19 h
This cooking class is expected to be available for booking on Wednesday 01 July, 2020.
Seminar and tasting in German
Wein und Meze: Ägäis und Levante
Tasting und Pairing Workshop
with Florian Minzlaff
Die Ägäis und die Levante sind eine Wiege der Weinkultur. Trotzdem sind sie bei uns irgendwie in Vergessenheit geraten. Das wollen wir ändern! In Griechenland hat sich seit den 1980ern viel getan und im Libanon gibt es einen wahren Schatz an einzigartigen Weinen. Mit klangvollen Namen wie Merwah, Xinomavro, Assyrtiko und ohne Retsina wollen wir uns spielerisch diese neue alte Welt erschließen.
Während Florian euch die Weine vorstellt, hat Lisa für euch eine Meze aus einem guten Dutzend warmer und kalter Köstlichkeiten vorbereitet. Verschiedene Pasten mit Fladenbrot, Vegetarisches in Teig gehüllt, Salate wie Chorta oder Gigantes, Gemüse gefüllt mit Nüssen und Kräutern wie Makdous (kleine eingelegte Auberginen), geschmortes Lamm mit Minze und Granatapfel... Dazu Geschichten über die Rezepte und ihre Zubereitung.
Auch Vegetarier werden satt.
(Kein Kochkurs)
Florian Minzlaff
Florian Minzlaff was born and raised in Berlin. As a child of two chefs his path into the world of food and drink was already paved. In his early twenties, he made his way to Italy where he studied Gastronomic Sciences and sampled the countries culinary treasures for four years. There, he couldn't help but develop a passion for wine and the complex world behind it. Since then he's been traveling the world as winemaker, sommelier and storyteller to share his enthusiasm for wine. Now Goldhahn und Sampson let's him do just that.
Photo: Nina Dörner
Class type:
Seminar and tasting
Location: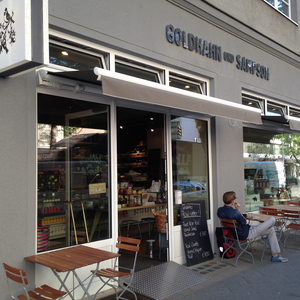 G und S Charlottenburg
Wilmersdorfer Str. 102/103
10629 Berlin
Date:
Monday 22 June, 2020 at 19:00 h
Duration:
Generally 3.5 to 4 hours (no guarantee).
Participants:
max. 16 persons