Vegan Baking Basics
Sunday, February 09, 2020 at 12 h
Baking class in German
Vegan Baking Basics
Von Streuselkuchen bis Cookies
with Gabrielle Coffey
Gemeinsam tauchen wir in die rein pflanzliche Backwelt ein und probieren aus, wie man auch ohne Butter und Eier erfolgreich Keske, Hefeteig und saftige Kuchen zaubern kann. Jede Gruppe darf ein anderes Rezept testen, doch werden alle die Tipps und Tricks des veganen Backens mitbekommen. Am Ende können sich dann noch alle kreativ austoben und etwas für Zuhause mitnehmen. Auf jeden Fall eine Aufbewahrungsdose mitbringen!
Menu:
Schokoladenkuchen
Pull-Apart Bread
Apfel-Streuselkuchen
Chocolate Chip Cookies
Gabrielle Coffey
Gabrielle lebt schon seit vielen Jahren vegan und seitdem sie nach Berlin kam, backt sie auch beruflich rein pflanzlich. Seit ein paar Jahren versucht sie mit ihrem Cateringunternehmen 'Mansfield Park' vegane Leckereien einem breiten Publikum näher zu bringen, wobei 'vegan' klein und 'Geschmack' groß geschrieben wird. Denn Gabrielle legt großen Wert darauf, dass vegan keine Rechtfertigung für mittelmäßiges Essen ist, sondern jedem Kritiker schmecken und dabei auch noch gut aussehen kann! In den Kursen sollen deshalb die vielseitigen Möglichkeiten des veganen Backens vorgestellt werden.
Class type:
Cooking in teams of two — In this class you will cook together with a partner (or sometimes 2 partners) at one station. You will be preparing every dish of the menu yourself. Most of the ingredients, already correctly measured, will be waiting for you at your station, so you can start cooking more quickly. Crucial techniques and/or the use of special equipment will be demonstrated by the teacher before you'll have a go yourself. This class is perfect for everyone who likes to have a real hands-on experience.
Location: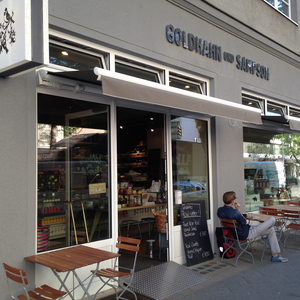 G und S Charlottenburg
Wilmersdorfer Str. 102/103
10629 Berlin
Date:
Sunday 09 February, 2020 at 12:00 h
Duration:
Generally 3.5 to 4 hours (no guarantee).
Participants:
max. 16 persons
Menu:
Schokoladenkuchen
Pull-Apart Bread
Apfel-Streuselkuchen
Chocolate Chip Cookies