Spanish Tapas: The Classics
Thursday, June 18, 2020 at 19 h
This cooking class is expected to be available for booking on Wednesday 01 July, 2020.
Cooking class in English
Spanish Tapas: The Classics
A selection of veggie, meat and fish tapas
with Federico Carrasco
A selection of meat, fish and veggie tapas Once upon time in Spain, the story goes, one would put a small plate or piece of bread on one's wine or beer glass to keep the flies from flying into it. This was the birthday of what we call tapas today. Mostly small and easy nibbles like olives, fried peanuts, raw ham etc. Tapas were always a food to share and therewith a always an invitation to indulge together. The dishes cooked in this class are very tradition and origin from a restaurant in Barcelona: Federico learnt them from the mother of the head chef.
Menu:
Champignons al Ajillo: Mushrooms with olive oil, garlic and parsely
Fabada Asturiana: Giant white beans and green aspargus in tomato sauce
Chorizos a la miel: Chorizo cooked with honey and red wine
Tortilla de patatas con Allioli: Potato tortilla with aioli
Escalibada : Oven baked veggies: eggplan, red pepper, onions - with anchovies and manchego cheese
Pimientos de padrón: Pan fried small green pepper with sea salt
Carrilleras al vino tinto: Veal cheeks with red wine and rosemary jus
Gambas al ajillo: Tiger prawns with olive oil, garlic and parsely
Crema catalana: Vanilla custard with caramelized sugar
Federico Carrasco
Federico kommt aus Buenos Aires, Argentinien, wo er seine ersten Erfahrungen in der professionellen Gastronomie sammelte. Zusammen mit vier Freunden veranstaltete er kulinarische Themenabende und Caterings. Hinzu kam die Beratung von gastronomischen Betrieben. Sein Ziel war dabei immer so viel wie möglich zu kochen, reisen, lernen und Neues kennenzulernen. Vor fast 10 Jahren kam er nach Berlin, davor hat er in vielen Ländern gelebt, viele Sprachen und Küchen erlernt. Er kennt sich aus mit modernen Kochtechniken und der molekularen Küche und liebt es, reisend und kulinarisch die Kontinente zu erkunden: Amerika, Europa, und Asien (insbesondere Korea). Unterschiedliche Länderküchen zu verbinden macht ihm Spaß und lässt ihn immer wieder Neues entdecken. Federico ist als Gastronomieberater tätig und arbeitet als Patissier in seinem eigenen, frisch gegründeten, Cateringunternehmen, das sich auf Desserts im Glas spezialisiert hat.
Class type:
Cooking in groups — In this class you will form small groups and each group will be cooking some of the dishes listed in the menu. The other dishes will be cooked by your fellow cooking class participants. However, important steps and basic techniques will be demonstrated in front of the entire class and/or practiced together. Of course you will also see and hear what is going on around you and you are very welcome to ask the teacher questions. The class is designed for you to experience diverse dishes and menu components.
Location: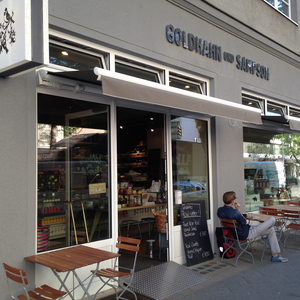 G und S Charlottenburg
Wilmersdorfer Str. 102/103
10629 Berlin
Date:
Thursday 18 June, 2020 at 19:00 h
Duration:
Generally 3.5 to 4 hours (no guarantee).
Participants:
max. 16 persons
Menu:
Champignons al Ajillo: Mushrooms with olive oil, garlic and parsely
Fabada Asturiana: Giant white beans and green aspargus in tomato sauce
Chorizos a la miel: Chorizo cooked with honey and red wine
Tortilla de patatas con Allioli: Potato tortilla with aioli
Escalibada : Oven baked veggies: eggplan, red pepper, onions - with anchovies and manchego cheese
Pimientos de padrón: Pan fried small green pepper with sea salt
Carrilleras al vino tinto: Veal cheeks with red wine and rosemary jus
Gambas al ajillo: Tiger prawns with olive oil, garlic and parsely
Crema catalana: Vanilla custard with caramelized sugar