South Indian Special
Saturday, January 25, 2020 at 18 h
Cooking class in German
South Indian Special
Indisch-vegetarisch
with Krithika do Canto
A little word of warning ;)
If you are hoping to replicate the spicy creamy Kormas from your favourite Indian restaurant, this is perhaps not the course for you. This course demystifies some of the secrets of the Indian kitchen with an introduction to some of the basic spices, the benefits of using them and stories about the rituals of preparing and enjoying a traditional Indian meal. The dishes have been adapted from traditional Indian cuisine to suit those conscious about their diets. That being said, the different dishes that are cooked during the course are meant to complement each other and will as a whole provide an amazing journey for the senses.
Menu:
Tamarind and Coconut tickle your taste buds in a typical meal from the south:
Lime Rice – Basmati rice garnished with peanuts and lemon juice
Rasam – a traditional spicy soup with tomatoes and tamarind that accompanies every meal
Dahi Vada – Fried lentil patties soaked in yoghurt
Rava Idli – Steamed wheat and yoghurt cakes
Peerkanga Chutney – A tangy sauce made out of zucchini
Bean Thoran - Green beans cooked with mustard seeds and grated coconut
Kheer – Creamy pudding with vermicelli noodles and cardamon
(with organic ingredients, where possible)
Krithika do Canto
Krithika do Canto, who praises her mother's cooking skills, has been teaching Ayurvedic classes at Goldhahn and Sampson since 2010. After spending some years studying Ayurveda and becoming a yoga instructor, she modified many of her mother's recipes to adhere to a Sattvic diet, appropriate for people who are interested in yoga and meditation.
Class type:
Cooking in groups — In this class you will form small groups and each group will be cooking some of the dishes listed in the menu. The other dishes will be cooked by your fellow cooking class participants. However, important steps and basic techniques will be demonstrated in front of the entire class and/or practiced together. Of course you will also see and hear what is going on around you and you are very welcome to ask the teacher questions. The class is designed for you to experience diverse dishes and menu components.
Location: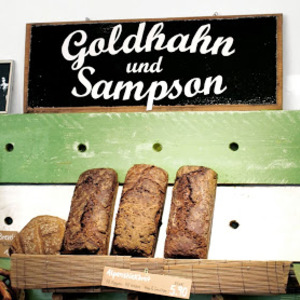 G und S Prenzlauer Berg
Dunckerstr. 9
10437 Berlin
Date:
Saturday 25 January, 2020 at 18:00 h
Duration:
Generally 3 to 3.5 hours (no guarantee).
Participants:
max. 12 persons
Menu:
Tamarind and Coconut tickle your taste buds in a typical meal from the south:
Lime Rice – Basmati rice garnished with peanuts and lemon juice
Rasam – a traditional spicy soup with tomatoes and tamarind that accompanies every meal
Dahi Vada – Fried lentil patties soaked in yoghurt
Rava Idli – Steamed wheat and yoghurt cakes
Peerkanga Chutney – A tangy sauce made out of zucchini
Bean Thoran - Green beans cooked with mustard seeds and grated coconut
Kheer – Creamy pudding with vermicelli noodles and cardamon
(with organic ingredients, where possible)