Persepolis 2.0 - Persian Veggie Delights
Thursday, May 7, 2020 at 19 h
This cooking class is expected to be available for booking on Tuesday 21 April, 2020.
Cooking class in German
Persepolis 2.0 - Persian Veggie Delights
Unvorstellbar, aber wahr: Persische Küche ohne Fleisch
with Mani Bakhshpour
Wer "Iran" und "vegetarian" googelt, findet Sätze wie: "Iran - The most vegetarian unfriendly country in the world". Auch die Speisekarten persischer Restaurants (zumindest derjenigen außerhalb Irans) sprechen Bände, bestehen sie doch meist aus folgenden Gerichten: Kebab, Kebab und Kebab. Was niemand weiß: Selbstverständlich hat die persische Küche viel mehr zu bieten als Fleischspieße. Sie zeichnet sich insbesondere durch die Verwendung von riesigen Bergen frischer Kräuter und durch den Einsatz edler Gewürze aus. Und: Jeder persische Basar ist prall gefüllt mit den wunderbarsten Gemüse- und Obstsorten. Diese Zutaten bieten ohne Zweifel eine optimale Basis für geschmacklich feine oder auch würzig-rustikale vegetarische Gerichte.
Menu:
Saisonaler Salat mit gebratenen Auberginen und Walnusskernen. Dazu eine Granatapfel-Rosenwasser-Vinaigrette
In Sumach und Pistazien gewendete Ziegenkäse-Joghurt-Nocken
Selbstgebackenes Fladenbrot
Persisches Fava-Bohnen-Dill-Kuku mit Safran-Orangen Jus
Ghormeh Sabzi - persisches Kräuter-Curry mit Borlottibohnen, getrockneten Limetten und Halloumi-Käse
Basmatireis, gedämpft nach persischer Art
Mast o Chiar: Joghurt mit Gurken, Minze, Knoblauch, Walnüssen und Rosenblüten
Mast o Borani: Joghurt mit gedünstetem Spinat, Knoblauch und gerösteten Pistazien
Persian Pavlova
Mani Bakhshpour
Mani Bakhshpour, freiberuflicher Regisseur und Fotograf, wurde in Teheran geboren und verbrachte seine Kindheit dort. Seine Eltern – beide sehr gute Köche – haben ihm früh Einblick in ihre Kochtöpfe gewährt. Nicht ohne Folgen. Heute ist Mani ein Großmeister der persischen Reiskruste und hat ein Bockshornkleefeld auf dem Balkon.
Class type:
Cooking in groups — In this class you will form small groups and each group will be cooking some of the dishes listed in the menu. The other dishes will be cooked by your fellow cooking class participants. However, important steps and basic techniques will be demonstrated in front of the entire class and/or practiced together. Of course you will also see and hear what is going on around you and you are very welcome to ask the teacher questions. The class is designed for you to experience diverse dishes and menu components.
Location: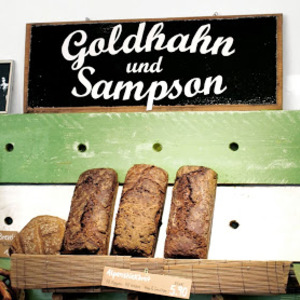 G und S Prenzlauer Berg
Dunckerstr. 9
10437 Berlin
Date:
Thursday 07 May, 2020 at 19:00 h
Duration:
Generally 3 to 3.5 hours (no guarantee).
Participants:
max. 12 persons
Menu:
Saisonaler Salat mit gebratenen Auberginen und Walnusskernen. Dazu eine Granatapfel-Rosenwasser-Vinaigrette
In Sumach und Pistazien gewendete Ziegenkäse-Joghurt-Nocken
Selbstgebackenes Fladenbrot
Persisches Fava-Bohnen-Dill-Kuku mit Safran-Orangen Jus
Ghormeh Sabzi - persisches Kräuter-Curry mit Borlottibohnen, getrockneten Limetten und Halloumi-Käse
Basmatireis, gedämpft nach persischer Art
Mast o Chiar: Joghurt mit Gurken, Minze, Knoblauch, Walnüssen und Rosenblüten
Mast o Borani: Joghurt mit gedünstetem Spinat, Knoblauch und gerösteten Pistazien
Persian Pavlova