Everybodys Dumplings: Wilder Osten im Teigmantel
Sunday, May 31, 2020 at 14 h
This cooking class is expected to be available for booking on Tuesday 21 April, 2020.
Cooking class in German
Everybodys Dumplings: Wilder Osten im Teigmantel
Pelmeni, Pieroggen & Co.
with Shay Dashevsky
Weit gereist sind die Pelmeni, von der Mongolei über das Uralgebirge und Sibirien, durchs wilde Russland nach Osteuropa. So wurde die kleine, gefüllte Teigtasche zu einem Stück Geschichte und kann uns viel erzählen über unterschiedliche Nationen und Völker. In diesem Kurs lernt ihr moderne und traditionelle Zubereitungsarten der köstlichen Täschchen, mit kulinarischen Einflüssen die bis ans Mittelmeer reichen. Im ersten Teil lernt ihr, wie man den perfekten Teig für alle Sorten Dumplings herstellt. Danach beschäftigen wir uns mit den unterschiedlichen Füllungen: Fleisch, vegetarisch und sogar süß. Am wichtigsten ist jedoch der dritte Teil, denn hier wird euch gezeigt, wie ihr die Teigtaschen kunstvoll füllt, verschließt und verziert - denn Pelmeni, Manti und Pierogi sehen nicht gleich aus. Danach werden wir kochen, dämpfen und braten - denn auch die Zubereitungsarten können ganz unterschiedlich sein. Zu jeder Sorte Dumplings gibt es passende Sauce und Dipps - das perfekte Essen für einen Abend mit Freunden oder der Familie. Dieser Kurs ist veggie-friendly (aber nicht vegan-friendly): bitte bei der Buchung im Kommentarfeld angeben, wenn eine vegetarische Option gewünscht ist.
Menu:
Pelmeni: Russian dumplings with meat filling
Pirogi: Polish dumplings with potato filling
Manti: Uzbek dumplings steamed with meat filling
Sweet pirogi with berries
Shay Dashevsky
Born in Israel, Shay grew up in a big melting pot, literally. Raised in a former Soviet family, Shay witnessed and tasted Western Asian influences from his grandmother first hand. Surrounded with smells coming from the mixed Moroccan, Iranian, Yemeni neighborhood in the suburban Israeli city, where every open windows was a sweet invitation, Shay began his never ending journey to fusion his past and present, specially after moving to Jaffa. Arabic and Western Asian, Middle Eastern, Ukrainian and Georgian dishes: this course is an open invitation to join this passion for food.
Class type:
Cooking in groups — In this class you will form small groups and each group will be cooking some of the dishes listed in the menu. The other dishes will be cooked by your fellow cooking class participants. However, important steps and basic techniques will be demonstrated in front of the entire class and/or practiced together. Of course you will also see and hear what is going on around you and you are very welcome to ask the teacher questions. The class is designed for you to experience diverse dishes and menu components.
Location: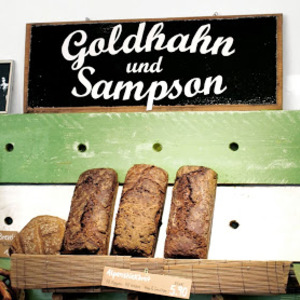 G und S Prenzlauer Berg
Dunckerstr. 9
10437 Berlin
Date:
Sunday 31 May, 2020 at 14:00 h
Duration:
Generally 3 to 3.5 hours (no guarantee).
Participants:
max. 12 persons
Menu:
Pelmeni: Russian dumplings with meat filling
Pirogi: Polish dumplings with potato filling
Manti: Uzbek dumplings steamed with meat filling
Sweet pirogi with berries