Italienische Küche: Coniglio e Branzino
Sunday, May 3, 2020 at 18 h
This cooking class is expected to be available for booking on Tuesday 21 April, 2020.
Class type:
Cooking in groups — In this class you will form small groups and each group will be cooking some of the dishes listed in the menu. The other dishes will be cooked by your fellow cooking class participants. However, important steps and basic techniques will be demonstrated in front of the entire class and/or practiced together. Of course you will also see and hear what is going on around you and you are very welcome to ask the teacher questions. The class is designed for you to experience diverse dishes and menu components.
Location: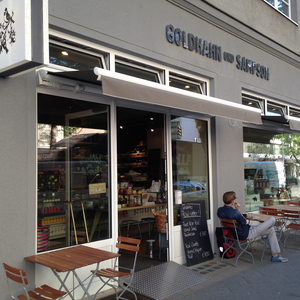 G und S Charlottenburg
Wilmersdorfer Str. 102/103
10629 Berlin
Date:
Sunday 03 May, 2020 at 18:00 h
Duration:
Generally 3.5 to 4 hours (no guarantee).
Participants:
max. 16 persons
Menu:
Antipasti misti: Gemüse der Saison: je nachdem, mit Spargel, Artischocken, Radicchio, Pilzen, Zucchini, Mangold, Paprika...
Primo: Selbst gemachte Ravioli mit würzigem Kaninchen-Ragù (auch vegetarisch möglich)
Secondo: 2erlei vom Wolfsbarsch: im Salzmantel und in cartoccio, d.h. in Backpapier, dazu gescmorter Fenchel und Weißweinsauce
Dolce: Crema alla vaniglia e salvia rossa (Vanillecrema mit rotem Salbei)