Classic Spanisch Tapas
Thursday, May 7, 2020 at 19 h
This cooking class is expected to be available for booking on Tuesday 21 April, 2020.
Cooking class in German
Classic Spanisch Tapas
A selection of veggie, meat and fish tapas
with Federico Carrasco
In Spanien legte man einst einen kleinen Teller oder eine Scheibe Brot auf seinen Wein oder sein Bier, damit dort keine Fliegen hinein gelangten. Aus dieser Sitte entwickelten sich die köstlichsten kleinen Gerichte: von Oliven oder frittierten Erdnüsse bis zu Jabugo-Schinken oder auch sehr aufwändigen Rezepten. Tapas sind aber immer auch zum Teilen da, und sind damit quasi die Einladung, zusammen zu genießen.
Die Gerichte, die in diesem Kurs gekocht werden, stammen aus einem Restaurant in Barcelona, in dem Frederico (von der Mutter des Chefkochs) viele traditionelle Gerichte der spanischen Küche kennen lernte.
Menu:
Chorizos a la miel - Chorizo in Honig und Rotwein
Tortilla de patatas con Allioli - Kartoffeltortilla mit Aioli
Pa amb tomaqut - Weißbrot mit Tomate und Meersalz
Escalibada - Ofengebackenes Gemüse aus Auberginen, Paprika und Zwiebeln, mit Sardellen und Manchego
Pimientos de padrón - Kleine grüne Paprika mit Meersalz gebraten
Mandonguillas amb sepia i chocolate - Kleine Fleischbällchen mit Tintenfisch in Schokoladensauce
Gambas al ajillo - Tigergarnelen in Olivenöl mit Knoblauch und Petersilie
Crema catalana - Vanillecreme mit Karamellschicht
Federico Carrasco
Federico kommt aus Buenos Aires, Argentinien, wo er seine ersten Erfahrungen in der professionellen Gastronomie sammelte. Zusammen mit vier Freunden veranstaltete er kulinarische Themenabende und Caterings. Hinzu kam die Beratung von gastronomischen Betrieben. Sein Ziel war dabei immer so viel wie möglich zu kochen, reisen, lernen und Neues kennenzulernen. Vor fast 10 Jahren kam er nach Berlin, davor hat er in vielen Ländern gelebt, viele Sprachen und Küchen erlernt. Er kennt sich aus mit modernen Kochtechniken und der molekularen Küche und liebt es, reisend und kulinarisch die Kontinente zu erkunden: Amerika, Europa, und Asien (insbesondere Korea). Unterschiedliche Länderküchen zu verbinden macht ihm Spaß und lässt ihn immer wieder Neues entdecken. Federico ist als Gastronomieberater tätig und arbeitet als Patissier in seinem eigenen, frisch gegründeten, Cateringunternehmen, das sich auf Desserts im Glas spezialisiert hat.
Class type:
Cooking in groups — In this class you will form small groups and each group will be cooking some of the dishes listed in the menu. The other dishes will be cooked by your fellow cooking class participants. However, important steps and basic techniques will be demonstrated in front of the entire class and/or practiced together. Of course you will also see and hear what is going on around you and you are very welcome to ask the teacher questions. The class is designed for you to experience diverse dishes and menu components.
Location: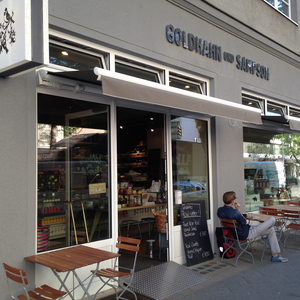 G und S Charlottenburg
Wilmersdorfer Str. 102/103
10629 Berlin
Date:
Thursday 07 May, 2020 at 19:00 h
Duration:
Generally 3.5 to 4 hours (no guarantee).
Participants:
max. 16 persons
Menu:
Chorizos a la miel - Chorizo in Honig und Rotwein
Tortilla de patatas con Allioli - Kartoffeltortilla mit Aioli
Pa amb tomaqut - Weißbrot mit Tomate und Meersalz
Escalibada - Ofengebackenes Gemüse aus Auberginen, Paprika und Zwiebeln, mit Sardellen und Manchego
Pimientos de padrón - Kleine grüne Paprika mit Meersalz gebraten
Mandonguillas amb sepia i chocolate - Kleine Fleischbällchen mit Tintenfisch in Schokoladensauce
Gambas al ajillo - Tigergarnelen in Olivenöl mit Knoblauch und Petersilie
Crema catalana - Vanillecreme mit Karamellschicht