Vegetarian cooking for every day
Tuesday, May 19, 2020 at 19 h
This cooking class is expected to be available for booking on Tuesday 21 April, 2020.
Cooking class in German
Vegetarian cooking for every day
Simple, quick and vegetarian
with Lisa Shoemaker
Sempre la stessa minestra? Immer wieder das gleiche? Broccoli gratiniert und Spinat, der blubbt? Wir kochen mit Gemüse und finden heraus, welche Gewürze zu welchem Gemüse passen. Die verwendeten Gemüsesorten suche ich am Tag des Kurses im Bio-Supermarkt nach ihrer Tagesform aus und die Auswahl setzt sich zum größten Teil aus regionaler, saisonaler Ware zusammen.
Gemüse Sandwichs, auch als Pausenbrot geeeignet
Eine Suppe, die ohne Brühwürfel auskommt: Soupe au pistou
Wie hält ein vegetarischer Burger zusammen und was mache ich, damit er auch gut schmeckt
Aus 1 mach drei: Ein Zubereitung, dreimal anders gewürzt und wir sind in Frankreich, der Türkei und auf Sizilien: Ratatouille, Türlü und Caponata
Ein Gemüse, drei Zubereitungsarten: hier geht es exemplarisch darum, welche Gemüse sich wie verarbeiten lassen. Wir panieren, blanchieren, pürieren, gratinieren, marinieren und .
Gemüse in süßen Kuchen: Orangen-Rote-Bete Kuchen
6 schnelle Rezepte: wie man mit maximal 5 Zutaten, die man vorrätig hat, in unter 20 Minuten eine Mahlzeit zaubert.
Lisa Shoemaker
Lisa Shoemaker cooks and bakes with children, young people and grown-ups. She also writes and translates cook books. Works: Let's Cook (for young people) and Englisch kochen, as Amerikanisch Kochen from the series Gerichte und ihre Geschichte. She translated among others Cynthia Barcomi's baking books.
Class type:
Cooking in groups — In this class you will form small groups and each group will be cooking some of the dishes listed in the menu. The other dishes will be cooked by your fellow cooking class participants. However, important steps and basic techniques will be demonstrated in front of the entire class and/or practiced together. Of course you will also see and hear what is going on around you and you are very welcome to ask the teacher questions. The class is designed for you to experience diverse dishes and menu components.
Location: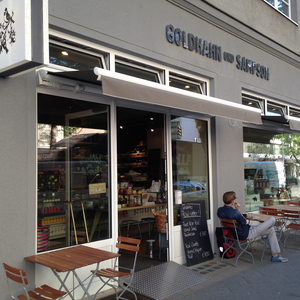 G und S Charlottenburg
Wilmersdorfer Str. 102/103
10629 Berlin
Date:
Tuesday 19 May, 2020 at 19:00 h
Duration:
Generally 3.5 to 4 hours (no guarantee).
Participants:
max. 16 persons