Sauces: The Basics for Beginners
Wednesday, May 27, 2020 at 19 h
This cooking class is expected to be available for booking on Tuesday 21 April, 2020.
Cooking class in German
Sauces: The Basics for Beginners
Fonds and basic sauces
with Helena Friebel
Dieser Kurs richtet sich ausdrücklich an absolute Anfänger mit wenig oder gar keinen Vorkenntnissen.
Kulinarisch sind Saucen ein Universum, mit schier unendlichen Ausmaßen.
Saucen sind eine Wissenschaft. Nicht umsonst ist in der Küchenbrigarde der "Saucier", der Saucen-Posten, auf Rang 4 angesiedelt. Er bereitet die Fonds, Saucen und Brühen zu. In diesem Kurs wollen wir dem Saucier Ehre machen! Wer also Anregungen für schnelle Tomatensaucen erwartet, der ist in diesem Kurs falsch. Denn Fonds brauchen Zeit. Und gute Saucen meistens auch ein wenig Übung.
Doch mit einigen wichtigen Grundkenntnissen und Wissen um die Beschaffenheit von Fonds und Saucen, gelingen Grundsaucen jedem. Wie binde ich Saucen? Welche Sauce passt wozu? Was ist das Geheimnis von Mayonaise und Hollandaise? Diese Fragen werden in diesem Kurs beantwortet.
In Teams von 2-4 Personen werden jeweils 4-5 verschiedene Fonds und Grundsaucen zubereitet. Die die Basis für ein 4-Gang-Menü bilden. Je nach Verfügbarkeit und Saison der Zutaten, variiert das Menü entsprechend.
Der Kurs ist nicht für Vegetarier geeignet.
Helena Friebel
Die Grundlagen des Kochens hat Helena ganz klassisch von Mama und Oma erlernt. Untypischer Weise gab es im heimatlichen Wohnzimmer in Westfalen einen holzbefeuerten Pizza-Ofen. So sammelte sie erste Kochkurs-Erfahrungen bei ihren eigenen Kindergeburtstagen, indem sie erklärte wie man die Pizza so ausrollt, dass sie nicht an der Arbeitsplatte festklebt (immer schön Mehl drunter!). In einem früheren Leben war Helena einmal Kommunikationsberaterin. Dann ist sie ihrem Hunger gefolgt und ging als Kochschwester in Berliner Gastro- und Streetfoodküchen in die Lehre. Sie betrieb einen Pop-up Breakfast Club, veranstaltete Dinnerabende und macht Caterings. Außerdem entwickelt sie Rezepte und kocht in verschiedenen Webvideo-Formaten.
Photo: Nina Dörner
Class type:
Cooking in teams of two — In this class you will cook together with a partner (or sometimes 2 partners) at one station. You will be preparing every dish of the menu yourself. Most of the ingredients, already correctly measured, will be waiting for you at your station, so you can start cooking more quickly. Crucial techniques and/or the use of special equipment will be demonstrated by the teacher before you'll have a go yourself. This class is perfect for everyone who likes to have a real hands-on experience.
Location: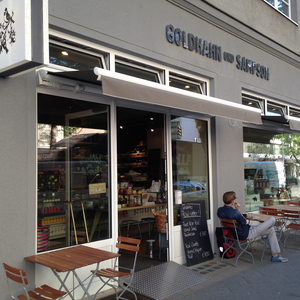 G und S Charlottenburg
Wilmersdorfer Str. 102/103
10629 Berlin
Date:
Wednesday 27 May, 2020 at 19:00 h
Duration:
Generally 3.5 to 4 hours (no guarantee).
Participants:
max. 16 persons