Let's Talk about Wine, Baby!
Monday, May 25, 2020 at 19 h
This cooking class is expected to be available for booking on Tuesday 21 April, 2020.
Seminar and tasting in German
Let's Talk about Wine, Baby!
Sensory workshop for beginners
with Florian Minzlaff
Schon mal von Pecorino gehört? Der Rebsorte, nicht dem Käse. Oder wie steht's mit Grignolino, Nascetta und Nerello Mascalese? Italien hat einen wahnsinnigen Reichtum an einheimischen Rebsorten. Egal, ob im alpinen Norden oder warmen Süden. Diesen Reichtum wollen wir gemeinsam entdecken, abseits von Platzhirschen wie Sangiovese und Nebbiolo.
Auch hier wird es wieder mit sensorischen Proben zum Riechen etwas Hilfestellung bei der Beschreibung geben. Der Spaß am Schmecken und Trinken soll im Vordergrund stehen. Florian sucht Weine aus, bei denen es ihm in den Finger kribbelt und erzählt dazu aus seiner Zeit in Italien.
Zum Wein gibt es etwas Brot und Käse.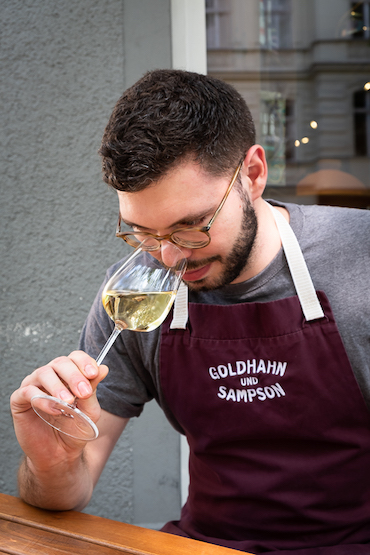 Florian Minzlaff
Florian Minzlaff was born and raised in Berlin. As a child of two chefs his path into the world of food and drink was already paved. In his early twenties, he made his way to Italy where he studied Gastronomic Sciences and sampled the countries culinary treasures for four years. There, he couldn't help but develop a passion for wine and the complex world behind it. Since then he's been traveling the world as winemaker, sommelier and storyteller to share his enthusiasm for wine. Now Goldhahn und Sampson let's him do just that.
Photo: Nina Dörner
Class type:
Seminar and tasting
Location: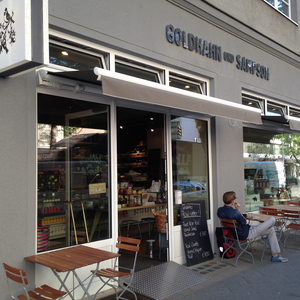 G und S Charlottenburg
Wilmersdorfer Str. 102/103
10629 Berlin
Date:
Monday 25 May, 2020 at 19:00 h
Duration:
Generally 3.5 to 4 hours (no guarantee).
Participants:
max. 16 persons