Home Barista Workshop
Saturday, May 23, 2020 at 11 h
This cooking class is expected to be available for booking on Tuesday 21 April, 2020.
Seminar and tasting in German
Home Barista Workshop
with Jonathan Schneider
Dauer: 2,5 Stunden
Dieser Kurs richtet sich an alle Kaffeeliebhaber - Einsteiger sowie Kenner - die einen Einblick in verschiedene Zubereitungsvarianten erhalten oder vertiefen möchten.
Vom groben Drückerkaffee bis hin zur feinen Espressomaschine, werden wir anhand eines Kaffees, aber verschiedenen Zubereitungsmethoden unterschiedliche Aromen herausfiltern. Dabei konzentrieren wir uns darauf, wie sich der Mahlgrad, die Temperatur, der Druck und vieles mehr auf den Geschmack und die Komplexität eines Kaffees auswirken.
Der Kurs soll die Teilnehmer am Ende dazu befähigen, anhand der verschiedenen Methoden mit ihrer Lieblingssorte an Kaffee, den für sich wohlschmeckendesten Kaffee zu Hause zubereiten zu können.
Wir werden die verschiedenen Zubereitungsvarianten zusammen - oder je nach Methode - in Kleinteams erarbeiten. Jeder bekommt die Chance sich an der jeweiligen Methode, die ihm am besten gefällt, auszuprobieren. Alle wichtigen Informationen sowie grundlegende Techniken werden für alle nachvollziehbar erklärt.
Menu:
Zutaten:
1 frisch gerösteter, saisonaler Kaffee aus der Berliner Kaffeeszene
Methoden:
French Press
Chemex
Hario V60/Kalita (Melittafilter)
Aeropress
Herdkännchen
Espressomaschine (Olympia Maximatic)
Jonathan Schneider
Jonathan Schneider, 1984 im schönen Niedersachsen an der holländischen Grenze geboren, kam während seines Studiums durch seine Liebe zum Kaffee als Autodidakt zu Bonanza Coffee - die Mitbegründer der Berliner Speciality Coffee Szene. Hier sammelte er Erfahrungen im Rösten, besuchte in Honduras Direct Trade Farmen und bekam Einblicke in die technischen und kulinarischen Bereiche der Kaffeeindustrie. Seit August 2017 ist er der Mann rund um das Thema Kaffee bei Goldhahn und Sampson.
Class type:
Seminar and tasting
Location: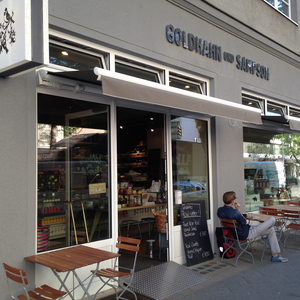 G und S Charlottenburg
Wilmersdorfer Str. 102/103
10629 Berlin
Date:
Saturday 23 May, 2020 at 11:00 h
Duration:
Generally 3.5 to 4 hours (no guarantee).
Based on our experiences, the average value for this course is 2 hours.
Participants:
max. 16 persons
Menu:
Zutaten:
1 frisch gerösteter, saisonaler Kaffee aus der Berliner Kaffeeszene
Methoden:
French Press
Chemex
Hario V60/Kalita (Melittafilter)
Aeropress
Herdkännchen
Espressomaschine (Olympia Maximatic)